Club promotes autism awareness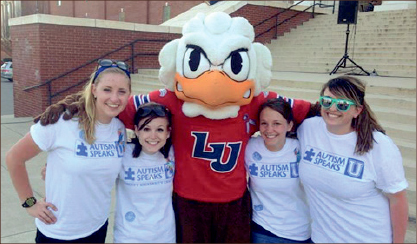 Autism Speaks U holds events to encourage students to support and reach out to children with special needs
In honor of Autism Awareness Month in April, Liberty's Autism Speaks U is hosting several events in order to raise awareness about autism among students and Lynchburg residents.
The month kicked off April 2 on the steps of DeMoss Hall for World Autism Awareness Day. There, Autism Speaks U celebrated Light it Up Blue, a global initiative that raises awareness about autism. At the event, students were handed blue cotton candy and information on autism. Emily Abel, president of the Liberty chapter of Autism Speaks U, said the event educated students.
"Our main goal is to advocate on behalf of those who have autism and those who have children with autism," Abel said. "We also work with those associated with autism."
According to Abel, the Liberty chapter began two years ago. An estimated 150 members, mainly from education and psychology departments, make up the organization. She said members as well as volunteers are able to help out with events around campus.
"We recently had a bake sale at a movie night hosted by Student Activities," Abel said. "We make opportunities available to spread the word about our organization and autism to the students."
In addition to the events on Autism Awareness Day, students were able to participate in the Coleman's Run 5k race held Saturday, April 2. The race, according to the Coleman's Run 5k website, raises autism awareness as well as funds for autism research.
Additionally, the organization seeks to reach out to families around Lynchburg. According to Abel, the organization has recently established "Parent Date Nights" for people who have children with autism. These parents are able to leave their children in the care of the Autism Speaks U members on campus while they go out and enjoy a date night.
"I have had parents who have told me that they have not been out in 10 years since we started this," Abel said. "It is awesome to hear how the organization is playing a part in the
community."
According to Abel, the chapter often sets up tables at grocery stores and events around Lynchburg in order to spread the word about autism.
Throughout the month, the organization will host more events and fundraisers, according to Abel. Meetings are hosted and events are posted and updated frequently on Liberty's Autism Speaks U Facebook page.