Nangle gets her first win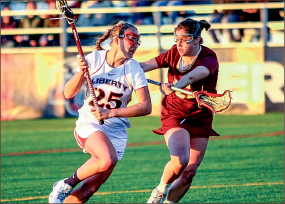 Liberty is victorious in its home opener, defeating Elon 13-9
The Liberty University women's Division I (D1) Lacrosse team (1-3) recorded its first win of the season after defeating the Elon Phoenix 13-9 in its home opener on Friday,
Feb. 21.
Sunny skies and spring weather greeted Flames fans as they packed the stands to cheer on the Lady Flames. Just a week prior to Friday night's game, the Liberty Lacrosse field was covered with snow.
This was the team's first win under new Head Coach Kelly Nangle.
The Lady Flames began the first half of the game with a strong start. Two and a half minutes into the game, sophomore attacker Kallie Britton opened up the field and fed the ball to freshman attacker Michaela Rich, who rifled the ball past Elon freshman goaltender Rachel Ramirez. The Flames took the lead 1-0.
Minutes later, shots from junior and sophomore attackers Sam Struss and Alyssa Kidder gave the Lady Flames a 3-0 edge over the Phoenix. With 21:23 on the clock, freshman midfielder Sydeny Hesselbein fed a quick pass to freshman midfielder Annie Shank, who netted the goal, putting Elon on the boards for the first time that night. Within two minutes, Shank earned a hat trick after sniping two more goals past Liberty senior goalie Kristen Masullo, tying the game 3-3.
Although less than 19 minutes remained in the first half, Elon's quick response to Liberty's early lead ignited a new pace to the game. Liberty regained the lead after Strauss fired another shot between the pipes. However, Shank was quick to respond with another goal to tie the game. At the 7:28 mark, the Phoenix capitalized and took the lead for the first time in the game.
Fortunately for Liberty, Elon's one-goal advantage was short-lived. The Lady Flames dominated the remainder of the first half, putting four more goals past Ramirez to give Liberty a 9-5 lead.
A quick goal by Elon at the start of the second half cut the deficit to three goals, but the Lady Flames maintained the momentum with a retaliation shot from senior midfielder Nina Dunay. Elon quickly responded with another goal, but the Flames held on to the 10-7 lead.
After 15 minutes of back-and-forth action, Struss and junior midfielder Colleen Ekert scored for Liberty. Struss contributed five goals in the victory.
In the final minutes of play, Elon managed to score two more goals but could never catch the Lady Flames, who rose to a 13-9 victory.
Liberty will take on the George Washington Colonials in Washington, D.C. for its next game Wednesday, Feb. 26 at 3:30 p.m.