'Little Women,' big performance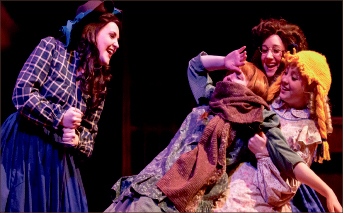 While many people were celebrating Valentine's Day the night of Friday, Feb. 14, 21 Liberty University students transformed into Jo, Meg, Beth and Amy March and several others for the opening of "Little Women" at the Tower Theater.
According to the Tower Theater's website, the show is based on Louisa May Alcott's own family experiences and novel. "Little Women" follows the adventures of the March sisters as they grow up in Civil War-era America.
McKenzie Connell, who plays Aunt March, said that even though the story is set in the past, it is still relatable to audience members today. She said that Jo March, the main character of the play, makes the play especially relevant.
"Jo's spirit is a modern spirit," Connell said. "She does not conform to society."
According to Christopher Nelson, the show's director, he believes that the story that centers on Jo March can serve as an encouragement to spectators.
"The audience will see what readers have read for years, a story of a family and a young woman specifically who is growing up and facing the challenges of the reality that surrounds her," Nelson said. "It is heart-warming and inspiring and very family friendly."
The story of the play follows that of the book, but the book has been adapted to fit the style of a musical, Nelson said. The music was written by Jason Howland and Mindi Dickstein for the Broadway production.
"(T)he music is wonderful," Nelson said. "It adds to the emotional depth of the story and really gives the story a nice rhythm."
Connell said that the music is contemporary and gives the show a powerful drive. Jonathan Hogue, the actor who portrays Laurie, agreed and added that the music is the heart of the show and makes it flow better.
Timmy Williamson, who plays Mr. Laurence, said that because the play is a musical, the cast members had to work quickly to develop their characters in addition to perfecting the songs.
In preparation for the part of his character, Hogue read the novel of "Little Women" only a few weeks before the play. The actor said he had some fun, quirky moments playing his character and enjoyed hearing the audience laugh along with him.
This is the first time "Little Women" has been performed in the Tower Theater, but it is not the first time it has been presented at Liberty. According to Nelson, "Little Women" was also performed at Liberty a little more than eight years ago in Lloyd Auditorium in the Fine Arts Hall, which is now used by Liberty's marching band.
The show will continue to run through Sunday, March 2. Tickets can be purchased online at ticketreturn.com, over the telephone at (434) 582-SEAT or at the Vines Center box office. Discounts are available for students, faculty, staff, seniors and active military members.