Hotels fill up fast for graduation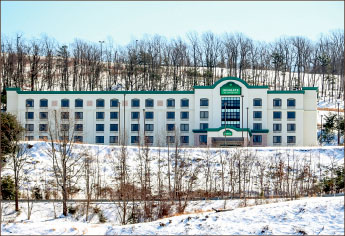 Liberty University commencement reservation increases at hotels leave families searching for places to stay
Families of students graduating this semester may be out of luck when it comes to finding a place to stay for graduation if they do not take action as soon as possible.
"We have maybe eight rooms left," Nancy Cash, general manager of Super 8, said. "We opened right after graduation."
Many hotels are already booked for Liberty University's graduation. Liberty offers housing for parents at various dorms on East Campus and the Annex to assist with the overload of visitors, but those rooms have already been filled, according to Kathy Phillips, a guest service member for housing and dining.
"Housing at Liberty opened at the end of January, and within the first day it was all filled," Phillips said. "Things are getting filled up pretty fast."
According to Andrew Marks, director of sales for the Hilton Garden Inn, numerous hotels have been booked for almost a year, with the rooms selling out within a few days of being available.
"Reservations opened on Aug. 1, and we were full within three days," Marks said. "If there is a cancellation, and a room comes up through my system, then (the family members) are able to book through me directly. But as of right now, I am sitting at a sold out position."
The Holiday Inn Express in Lynchburg is also booked, as they allow reservations to be placed as early as 50 weeks before arrival, according to Mary Baldwin, general manager of the Holiday Inn Express.
"We started taking reservations since about the end of May last year, and we have been sold out since September of 2013," Baldwin said. "Reservations go very quickly."
Not all hotels are completely full, but many of the available hotels require certain qualifications. The Kirkley Hotel currently has the majority of their rooms open for a $279, two-night minimum, and the Extended Stay America still has about 60 percent of their reservations available, requiring a three-night minimum stay. Meanwhile, the Sleep Inn has a limited number of rooms left.
"We have a few king beds left," Phillip Andres, from guest services of Sleep Inn, said.
To further assist those in need of a room for graduation, Liberty has placed a list of hotels that have room availability as of Jan. 31. The hotels range from Super 8 in Lynchburg to a Double Tree hotel located 73 miles away from Liberty.
For more information on Liberty's commencement, visit liberty.edu/academics/registrar/index.cfm?PID=10258.