Getting creative with Pinterest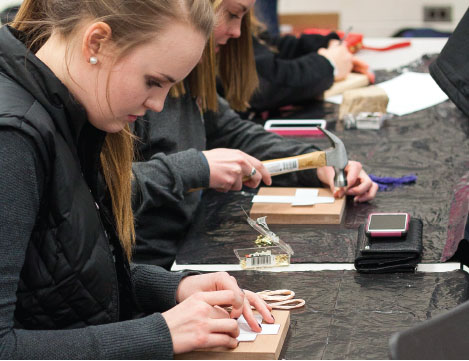 The Interior Design Society helps students get crafty in the first workshop inspired by pins from the social network
The sound of hammers on wood filled the air as Liberty University students participated in the first Pinterest DIY event, hosted by the Interior Design Society (IDS), Thursday, Jan. 30.
According to IDS President Lia Serapiglia, the turnout for the event was much better than she had anticipated, estimating that there were more than 30 students in attendance.
Students were asked to sign up for the event in advance, which was free of charge and included the craft supplies needed for the project.
Using a variety of colored strings, students made different outlines in the shapes of hearts, stars, states, anchors, deer, crosses and more. Each student hammered nails into a 5-by-7-inch wooden board to outline their chosen shapes. Once the shapes were complete, string was used to fill in the shape.
According to Serapiglia, IDS has done workshops before but has never held a Pinterest workshop. Serapiglia said that she wanted everyone to be able to actually do a craft project instead of just pinning it on Pinterest in hopes of doing it someday.
For Christa Shive, a junior interior design major at Liberty, this was her first Pinterest craft she had ever made. Shive said that she considers herself to be artistic and that she uses art to help her relax. At the event, Shive created her project in the shape of her home state of Maryland.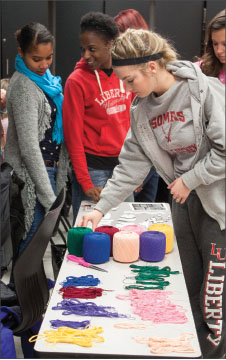 The string art project was also a Pinterest first for Joy Grant, a freshman at Liberty majoring in biology.
"I thought it was pretty easy," Grant said. "I thought (the event) sounded really cool, so I figured why not (go)."
Grant said that she is not very crafty and probably would not have done a Pinterest craft if she had not come to the event.
According to Serapiglia, the event was a success, and she received a lot of positive feedback from participants.
"We have had so much interest in this, (so) I think it will be great for IDS to establish it as a regular event with a different craft each time," Serapiglia said.
For more information about IDS, visit liberty.edu/academics/arts-sciences/facs/.