Cooking fun foods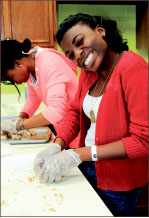 FACS club serves up free culinary training
Liberty University's first cooking club organized by the Department of Family & Consumer Sciences held its inaugural meeting Jan. 28.
Students gathered in Science Hall room 103 to learn how to cook food with high nutritional value.
"I have come to this club hoping to learn about a new cooking style (and to) learn how to cook American and Italian cuisine, cuisines that I'm less familiar with," Jennyfer Alvarenga, a FACS major from El Salvador, said.
The instructor, Linda Kitchel, started off the night by telling the students why this class is important.
"This will be a great opportunity for students to learn cooking skills and practice the skills that they have learned," Kitchel said.
The menu for the students to learn for the night was scrambled eggs, southern biscuits and cinnamon rolls.
As students entered into the kitchen, they divided themselves up into smaller groups and began the cooking process.
"I really like cooking, and I love to bake," junior Brianna Coleman said. "That's why I'm so excited about attending this club. I hope to learn new and more complicated recipes."
When the students finished cooking, they gathered around the table to enjoy the food and each other's company.
"It's awesome to see so many people come out to learn about cooking," Mikala Reinman, a junior biomedical sciences student, said. "As I prepare for my life after college, I want to learn more about independent living."
After students shared the food with each other, the night came to a close after cleaning the kitchen.
According to Kitchel, her personal goal for the club is to help improve the diets of students in order for them to function better.
"It is important for the students to know what foods the body really needs and cook from scratch with natural ingredients," Kitchel said.
According to Kitchel, she was excited about the turn out for the first-ever student-led culinary club.
"The response from the students was great tonight, and if the attendance is constantly high, we hope to divide into two sessions, which will give students more (of a) chance to put their hands on the food that they are making," Kitchel said.