Panthers claw to victory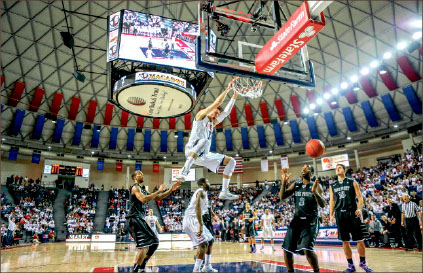 Second-half surge pushes High Point past Liberty in important conference matchup
Midway through the first half with a 26-16 lead, the Liberty Flames (8-11, 2-2 Big South), looked as if they were destined to blow out the High Point Panthers (6-11, 2-2 Big South).
That was not the case. High Point battled back and clung to a lead at the end of the game, defeating Liberty, 76-70. The Flames fell into a three-way tie with Virginia Military Institute (9-8, 2-2 Big South) (VMI) and High Point for second place in the North Division.
"We didn't take care of the ball or make free throws we are accustomed to making," Head Coach Dale Layer said. "We gave up crucial second shots in the second half. … We gave them too many opportunities."
The Panthers forced the Flames to commit 18 turnovers, scoring 27 points off Liberty's mistakes. High Point also took advantage of a five-minute scoring drought that extended beyond halftime and jumped out to an 11-point lead with 17:17 remaining in the second half.
"Sometimes I thought we tried to force it in the paint too much," guard John Caleb Sanders said. "Both feeding it in and driving it in caused a lot of our turnovers."
Liberty came out of the gate strong. Ball movement allowed multiple Flames to make easy shots all over the floor. Although John Caleb Sanders picked up two fouls with 14:13 in the first half, the Flames still stayed aggressive.
With 8:13 to go in the first half, forward Antwan Burrus gathered one of his two steals and pushed the ball to guard Davon Marshall, who found guard Casey Roberts in transition for a quick three pointer.
The triple gave the Flames their largest lead of the night.
However, the Panthers clawed back into the game going into halftime down 34-33. Burrus led the Flames with seven points, while guard Joe Retic, forward Andrew Smith and center JR Coronado had six points each in the half. High Point guard Devante Wallace led all scorers with 11 points. Guard Adam Weary had eight points, and forward John Brown had six points at halftime.
After a quiet first half, Brown dominated after halftime.
Scoring 15 points in the second half, Brown contributed to a 12-0 Liberty run. Liberty came out sluggish and committed three turnovers in the first three minutes.
"(High Point) started out with more toughness and energy in the second half," Layer said. "That is something we can control starting with me, and we gotta be better. I thought that they were the aggressor for most of the night, and you can't win if the other team is more aggressive than you are."
Down 45-34 with 17:04 remaining in the second half, Liberty slowly chipped into the deficit.
Marshall delivered an alley-oop to Smith off an inbound from the baseline. On the next possession, John Caleb Sanders found Smith for another dunk that caused the 5,271 fans in attendance to erupt.
"My teammates are starting to find me," Smith said. "I'm getting easy looks under the basket. … I'm just trying to be in the right spot and keep moving. I'm getting layups and dunks, but it's because of my teammates."
After High Point guard Jorge Perez-Laham missed a layup, Retic dished the ball to forward Tomasz Gielo for an open three, which closed the gap to 45-42. But the Panthers regained control and had a nine-point lead with 5:51 left.
"They came out with more juice in the second half," Smith said. "We didn't match it. We took quick shots and had turnovers, and that fed their run."
With 4:18 to go in the game, the Flames delivered one final push. Smith put back a Gielo missed three and on the Flames next possession, Smith made a layup off a Marshall assist. After a made layup from Weary, Marshall penetrated on the other end and made a layup. He was also fouled and made the free throw to complete the three-point play.
Down 68-63 with 1:40 left in the second half, Gielo found Marshall, who nailed a three, reducing the Panthers lead to two. High Point committed a turnover on its next possession, and moments later, Smith missed a layup to tie the game.
Brown was then fouled with 1:02 remaining. After knocking down both free throws, Smith hit a jumper with 44 seconds to go, bringing the lead down to two. However, Weary hit a dagger with 14 seconds to give the Panthers a 72-68 lead.
"I think this is probably our worst loss of the season," John Caleb Sanders said. "A home loss in conference is hard to get over. You have to protect your home floor. We had a pretty good run going with VMI and Campbell, but we dropped the ball here."
Smith finished with a career-high 17 points and eight rebounds. Gielo had 12 points and six rebounds, while Marshall also had 12 points and five assists.
"Andrew (Smith) is playing at a high level," Layer said. "We got some individual play that is heading in the right direction. We just haven't done it all on the same night. Three guys would play well and three will be sub-par. We are a team that still hasn't hit its peak yet."
John Caleb Sanders had seven points and moved up to 15th on the all-time scoring (1,240 points) list passing his brother Jesse Sanders (1,235 points).
"It's nice, but I wish I could've had a better game," John Caleb Sanders said. "I think this was the worst game I had all
season."
Liberty will travel to face the Longwood University Lancers (5-14, 0-4 Big South) Wednesday, January 22 at 7 p.m.