Panel discusses African culture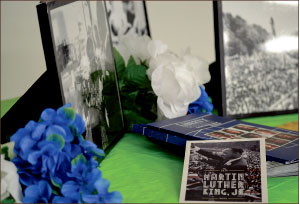 The Liberty University Center4ME held a deliberative dialogue session that included a lecture and panel geared toward uniting African and African-American students at Liberty in DeMoss Hall Jan 22.
Associate professor of Cultural Competency and Assessment Joy Jefferson opened the dialogue session and introduced the first speaker of the evening, Ghana native Dr. Yaw Adu-Gyamfi, who shared elements from his personal life history as well as hope and encouragement for multicultural relations.
Adu-Gyamfi recalled the history that unfolded before his eyes as a young student during the days of Martin Luther King, Jr. and said he paid close attention to King's attitude toward continental Africa.
"Martin Luther King came to Ghana in 1957 to celebrate independence," Adu-Gyamfi said. "He joined with other leaders to talk about unity among blacks."
According to Adu-Gyamfi, King served as an excellent example of rising above the cultural gap between native Africans and the African-Americans.
"At the leadership level, I could see that there was a conscious level to bridge that gap," Adu-Gyamfi said.
Adu-Gyamfi also stressed that students recognize the importance of engaging in African-American literature, which tends to use a substantial amount of African vernacular and connects readers to the experiences and emotions of their ancestors.
"The only thing that would connect African with American is a hyphen," Adu-Gyamfi said. "Do they see that dash as a unity or a separation?"
Before closing his lecture, Adu-Gyamfi challenged students to consider their own perceptions of the African culture.
"What is your perception of Africa and African-Americans?" Adu-Gyamfi said. "Unique or one homogenous group of people? Unique individuals with unique characteristics? Those are things that I needed to think about and come to an informed knowledge (of)."
Several Liberty students were invited to come up and form a panel to answer questions from all members of the audience, giving fellow students of different backgrounds a chance to glean a deeper understanding of the gap between Africans and African-Americans.
While most could agree on a discernable difference between these two groups on campus, some students pointed out even more similarities.
"When I see people, I don't see them too much with the stereotypical eye," Alvonta Tarrant said. "I always felt there was a piece missing. I always wanted to know where my family was from when we were in Africa. We all have something we can offer one another . . . We can build this world up."
Robert Owusu, a student panelist from Ontario, said he believes the reason why many African-Americans do not want to be called 'Africans' is because of media influence.
"You will definitely realize how if you pay attention," Owusu said. "People will say their perception of Africa is a bunch of (sick) children . . . There are shows out there that portray African-Americans in a negative light. They don't want to be tied to stereotypes."
Tarrant said he believes these two groups can change their mentality by taking pride in their identity and rejecting stereotypes portrayed in the media.
"It's about not being ignorant and passing that on to your children," Tarrant said.
For the final question, the panelists were asked how Africans and African-Americans could better connect with one another on campus.
"We have to have a desire to want to encounter one another," Tarrant said. "If you want to do it, you do it, and if you don't want to do it, you won't. I did an African event with students . . . I don't think I'd have the African friends I have right now if it were not for that event."
In the panel's closing minutes, Adu-Gyamfi encouraged Liberty students of every background to claim their citizenship in Christ above all.
"When you truly have God's character, you will be able to identify with anybody," Tarrant said.