Running down Big South title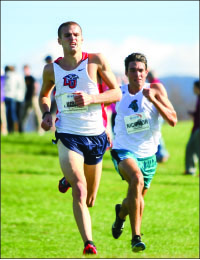 Liberty's men's cross country team win its ninth straight conference title
The Liberty men's cross country team ran to their ninth consecutive Big South Championship Saturday, Nov. 2, while the Lady Flames took second place in their race.
The Vista Links Golf Course, which was the site of this year's championship races, found a way to frustrate some of Liberty's top runners.
"The men's race did not go at all as expected," Liberty Head Coach Brant Tolsma said. "A few of our expected frontrunners had a very tough day, but fortunately, our normal 4-7 runners really stepped up when we needed them to."
Those 4-7 seeded runners were sophomore Jeremie Bourget, junior Josh MacDonald, sophomore Sam Hibbs and senior Zach Barker, all of whom finished in the top 10 and helped defeat a strong High Point team.
"High Point continues to commit the energy and resources to end our streak, but it is hard to see a nine-year streak die, and Hibbs, Barker and (Jarred) Cornfield ran especially well to make sure that didn't happen," Tolsma said.
In the women's race, the Lady Flames were severely handicapped, according to Tolsma. Two runners were out sick with mononucleosis, and one of the team's best runners, Jacy Christiansen, was nursing an injury she suffered Oct. 19. However, Christiansen was able to run through her injury, finishing in third place. The rest of the team followed suit, pushing through to earn second place.
"(Christiansen) was blessed with a surprisingly good race under the circumstances and Jessie (Proehl), Chelsea (Page), Lyndi (Fieltz) and Kat (Bouton) all performed better than I would have expected a few months ago. They all embraced our history and the importance of leaving our best effort out there. I feel confident this effort and unity will help us build for the future," Tolsma said.
The Flames will compete in the Hokie Open Nov. 8. According to the Liberty Flames website, Liberty's top seven men's and women's athletes will be competing in regionals with the hopes of qualifying for the NCAA Division I Cross Country Championships.