Chappell 'Kickstarts' campaign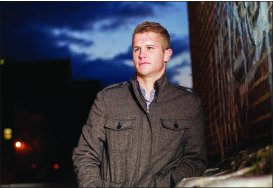 Sam Chappell is fundraising in order to film a documentary about the effects of the 2014 World Cup on Brazil
"I will reach my goal, even if I have to sell my car to get there."
That is how Liberty University senior Sam Chappell responded 10 days before the funding deadline when asked if he had doubts about his project's fundraising succeeding on Kickstarter, a website that gives entrepreneurs the chance to collect donations but only keep the funds if they reach a certain goal before their deadline. If Chappell's fundraising is successful, it will send him to Curitiba, Brazil to film a documentary about the effects of the 2014 World Cup on Curitiba's local community.
According to his project page, Chappell currently sits at 38 percent funded.
Chappell said he is partnering with the humanitarian aid organization Lionsraw to document stories from the Curitiba community. He said he hopes to meet and network with locals through Lionsraw's projects, specifically through their soccer training camps and tournaments.
"One major goal will be telling the story of a family in one of these communities," Chappell said. "How the World Cup has impacted the father in terms of job opportunities, how it has affected the mother in her day-to-day commute, how it has affected the kids as they look up to these players or see rich foreigners coming to their city. I would love just to see how one major event can impact an impoverished family as a whole, both the good and bad."
According to Chappell, the idea for the documentary sprung from interacting with a friend, Thad Taylor, while interning with The Washington Fellowship, a Liberty-affiliated program connecting students with internship opportunities in Washington, D.C. Chappell said that, while he was in D.C., he fell in love with documentaries and had the idea to try one of his own.
"Thad Taylor asked me if I wanted to join him in Brazil for a year with Lionsraw to coach and do some humanitarian aid work," Chappell said. "At the same time, the news was blowing up about the World Cup preparations and how people were being impacted. So basically, my idea for this project came from all of those things coming together at the same time."
According to Chappell, he needs to wait on funding to complete a lot of necessary preparation. Chappell said without the funds, he will not be able to buy a plane ticket to get to Curitiba, and he will not be able to afford the necessary camera lenses for filming.
"Thankfully, Lionsraw is establishing so many contacts in Brazil that I don't have to spend any time reaching out to people until I get down there," Chappell said.
If funded, Chappell said he will spend the greater part of a year living with 10 volunteers from the United Kingdom while he films. Chappell said these volunteers will be running the soccer projects for Lionsraw.
According to Chappell, these projects are how he hopes to meet locals and get plugged into the community.
Chappell said he has been playing soccer since he was a child and is a senior goalkeeper on the Liberty men's soccer team this year.
According to Chappell, while in Curitiba, he would be living in a poor neighborhood and would need to use caution.
"My main concerns are just getting mugged or my house getting broken into," Chappell said. "I just plan to avoid those things through prayer and making sure I'm with a big group and being smart about when I walk around."
Along with local violence, Chappell said he is not sure how or if regional authorities will react to his filming project.
"I honestly have no idea if the local government is going to let me film or not," Chappell said. "I would love to get connected with a government official once I get connected in the area to get their side of the story, so hopefully they can support my project."
The funding deadline for Chappell's Kickstarter project is only four days away.
For more information on the project, contact Chappell at sdchappell@liberty.edu. To donate to the Kickstarter campaign, go to kickstarter.com and enter 'Sam Chappell' in the search field.