Auditions begin for Coffeehouse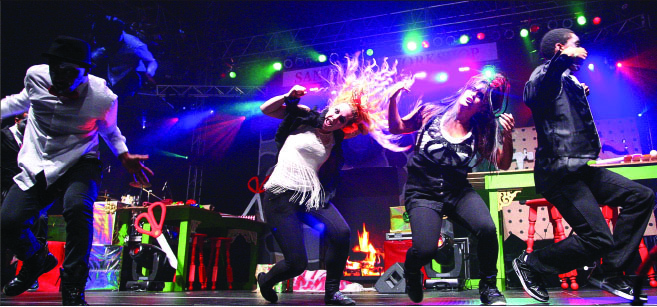 Christmas Coffeehouse is the last Student Activities (SA) event of the semester. Get ready for anything but a silent night. SA is looking for talented people to rock around the Christmas tree. This year's theme is Winter Wonderland.
Christmas Coffeehouse is a one-night-only, campus-wide talent show that will take place Dec. 6 at 11:30 p.m. in the Vines Center. Auditions will be held in the Tilley Student Center Nov. 11-15 from 5-10 p.m., and sign-ups will be first come, first serve.
"We're looking for (different) acts that are Christmas related," SA Associate Director Stephanie Ward said. "Bands, groups, dances, skits and videos are awesome, but variety is important to the show as well."
Ward said that anywhere from 50-60 acts audition and more than 20 videos are submitted, but only about 30 acts and videos are chosen.
According to the SA website, there are several requirements for all performances and videos, including that each one must be Christmas-themed.
Because it is a Liberty University event, most participants in a particular act must be Liberty students. In groups of three or less, all must be current Liberty students, according to liberty.edu/campusrec/studentactivities.
According to the SA website, musical acts may not sing with a track but must provide their own instruments, amps and cables. A cappella groups are welcome, but no solo a cappella performers can audition. It is also crucial that everyone in a group be present at the tryouts, or they will not be allowed to audition.
Students interested in entering a Christmas-themed video can submit their projects via a flashdrive or CD to the SA office during their office hours (Monday-Friday, 9 a.m.-4:30 p.m.) or during the audition times. All videos must be submitted by 10 p.m. Friday, Nov. 15. Videos can be as short as necessary but may not exceed seven minutes. Students must also save their videos as a .mov file, 16×9 HD andDVCPRO720p60. Any videos with footage of "illegal or unlawful activity" will not be considered, according to the website rules.
For drama or other performances, being prepared will significantly set those who audition apart from other acts. Full costumes, sets or props are not necessary at the audition, but lines should be completely memorized and delivered just as they would at the real event.
Not everyone may have a talent in one of the three categories above. However, SA encourages everyone interested in being showcased at Coffeehouse to audition.
"Participating in Coffeehouse is a once-in-a-lifetime experience for any musician, actor, dancer or performer," Ward said. "Your talent is showcased to a group of (more than) 6,000 people who want to be unified together through the show."
Students who prefer to be spectators can buy their tickets now. Tickets are $3 in advance and can be purchased at the Vines Center ticket office or can be purchased at the door for $5.
"Christmas Coffeehouse gives students a break from exam weekend to build relationships with other students around them and prepare them for the Christmas season," Ward said. "Also, what else is packed with so much fun, talent and excitement for only $3 here in Lynchburg?"
So come all ye faithful students to SA's winter wonderland spectacular. And while they bring joy to the world, you'll get to have yourself a merry little Christmas.
For more information about the rules, audition times or ticket purchases, visit liberty.edu/campusrec/studentactivities.