Students run for freedom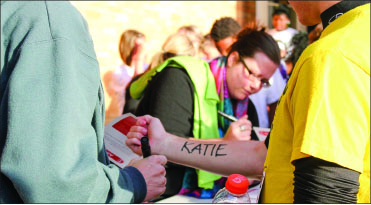 Freedom 4/24 Run for Their Lives takes place Oct. 12 at Lynchburg College
Each year, runners lace up their tennis shoes and mark their arms with the name of a human trafficking victim as they take part in the Run for Their Lives race to give a young woman freedom for one day. The Run for Their Lives 5k race will take place Saturday, Oct. 12, and will be held at Lynchburg College.
In previous years, the race has been held at Heritage Elementary, but Lynchburg College offered to let Freedom 4/24 use the facilities for free, according to Tim Spaulding, president and executive director of Freedom 4/24.
According to Spaulding, the organization and the Run for Their Lives race has grown significantly since its first year in 2009.
"Our first run was about 500 participants," Spaulding said. "Last year, we had just over 2,000 participants. This year, we're expecting between 2,500 and 3,000 participants."
According to Spaulding, since the organization was founded in 2009, Freedom 4/24 has moved into a new office in Nagpur, India, and hired its first full-time employee, Ryan Barr, as the executive race director.
The organization was founded with the purpose of standing against human trafficking and sexual exploitation, according to Freedom 4/24's website. Run for Their Lives was organized as a way to fulfill the organization's mission of encouraging individuals to stand against the injustice.
"Through the Run for Their Lives race, we have a platform to raise awareness of this issue and provide people with a way to make a difference," Barr said. "We believe that freedom begins with a day, and each person who participates in the race provides hope to a woman or child that has been sold into slavery."
According to Spaulding, Freedom 4/24 has partnered with the organization's Freedom Firm in India and now supports the work of Sports Outreach Institute in Northern Uganda as well.
"Each of these partnerships was made possible from the race proceeds of last year's race," Spaulding said.
In addition to the 5k run, there will be a 1k Kids Fun Run, which gives participants of all ages the chance to get involved.
"We do this (Kids Fun Run) at every race location," Spaulding said. "… In Lynchburg, we usually have 150-plus kids participating in the fun run."
Liberty University sophomore Brandy Fronte is passionate about Freedom 4/24 and raised money for the race last year.
"I worked with a ministry back home trying to save girls out of prostitution," Fronte said. "I've always been passionate about (it)."
According to Fronte, at the Lynchburg race last year, participants got to walk through an informational museum and hear stories of girls who were saved through Freedom 4/24.
"(The museum) really shows people how their time and money in this race helps," Fronte said.
According to Barr, runners in 10 additional locations outside of Lynchburg will take part in the Run for Their Lives race.
"Every race entry helps," Spaulding said. "Every minute of a volunteer's time is crucial, and every donation brings freedom and does justice."
For more information about Freedom 4/24 or to register for the Run for Their Lives race, visit freedom424.org.