Students participate in See You at the Pole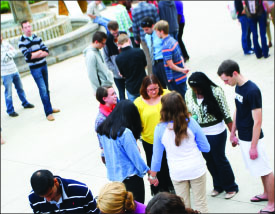 Local headlines tell of catastrophic events occurring almost every day in America and around the world. They showcase the tragic situations politicians from the capital and various states have to deal with so often.
Liberty students gathered at the front steps of DeMoss Hall Wednesday, Sept. 25, to pray for the nation, its leaders and Lynchburg-area politicians at the annual See You at the Pole.
The Student Government Association (SGA) and the Office of Student Leadership (OSL) hosted the event. Students sang songs of praise and also prayed for their individual states, as well as for the U.S. as a whole.
Student body president Joshua Warner introduced the service to students and offered an opening prayer. As president, Warner acts as a bridge between administration and the student body. The event was something he knew needed to happen in order to help students realize the importance of praying for the nation.
"I think right now in our nation, with some of the tragedies that have recently happened and also with the mall massacre in Kenya, we should be uplifting the grievances we have to God and making sure that we ask for his guidance," Warner said. "It is also extremely important to pray for our government officials. So we hope that students will realize the need to pray for our nation while at the service."
Quincy Thompson, chairman of the spiritual life committee within the SGA, offered words of encouragement to students about the importance of praying.
"We want students to gain a deeper appreciation for (prayer) because we, as believers, cannot pray enough," Thompson said. "If you look at the life of Jesus, you can see that. We wanted to keep this a simple gathering, nothing extravagant, in order to help student(s) realize the simplicity of the moment."
Katrina Potter, a member the spiritual life committee of SGA, wanted students to realize the impact prayer can have on changing the world.
"This event is a national event that high schools and colleges all over the nation gathered to pray for the nation and pray for need in their specific areas," Potter said. "We are going to have worship and pray for the nation, and then take time to pray for our home states, churches and schools. This is a great way to unify us and to petition to God to do what He wants in our nation."
According to liberty.edu, millions of students gathered around the country Friday to pray for their individual states, state officials and for the nation as a whole. The event also helps keep prayer alive in schools across the country.
"We currently live in a nation that has turned away from God," Warner said. "It would be wonderful if an event as simple as praying for our country and its leaders could help bring America back to the one true God."