Snowflex hosts military families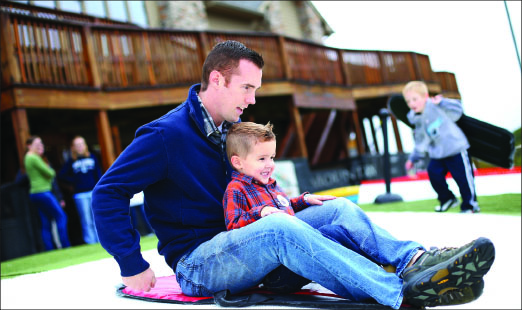 Lynchburg community military members enjoyed a soggy Military Family Fun Day on top of Liberty Mountain
The Office of Military Affairs welcomed Liberty University and the surrounding community's military members and their families to its Military Family Fun Day Saturday, Oct. 12 at Liberty Mountain Snowflex Centre.
Despite the clouds and the rain, fathers, mothers and children, as well as active duty, reserve and retired military members came to enjoy free ski and snowboard rentals, tubing and a barbeque lunch catered by Sodexo.
"The event has gone so well," Ashley Eskridge, Military Affairs outreach coordinator, said. "In spite of all of the rain, I'm impressed with how many people showed up."
Children of all ages screamed and laughed as they rode down the hill on inner tubes. Even the struggle to stay upright while sliding down Snowflex's slippery turf failed to erase the grins from their faces.
"I think it's so nice that (Liberty) is doing this," Alissa Sarate, a military wife who traveled from Florida to visit her husband in the Fort Lee area, said. "It's always encouraging to get a lot of military families together, especially with all the events happening with the government shutdown. Sometimes it's easy to feel alone, but events like this are great for bringing people together."
Inside the lodge, people enjoyed staying warm and dry while eating pulled pork sandwiches, hot dogs and other picnic foods. Outside, most activity circulated around the bunny hill — a foreboding mountain to kids under three feet tall. Between the sweat and the rain, their clothes were soaked and their hair dripped into their face.
"We were expecting to get wet, just … not so soaked," James Kelley, U.S. Air Force veteran, said. "It was a good opportunity to get (the kids) out here and see if they actually like skiing or snowboarding."
Snowflex held the first family fun day in 2011. In the first year, about 200 guests attended the event each semester. This year, the rain did its best to keep people away, but past attendees knew it would be worth it to come again.
"Even with the rain, it's been a great day so far," Heather Harris, who has attended several previous Military Family Fun Days, said. "Everything that is done is always first class."
The event gave military members a safe place to allow their kids to play and the unique opportunity to connect with other military families.
"I find this to be a positive influence for the kids," Kelley said. "Hopefully, one day we'll have them come here to Liberty."
If Kelley's kids do come to Liberty, Military Affairs will be there to assist them.
Eskridge said that all the Military Affairs workers have a great heart for serving military students, both residential and online.
"We love to honor the military because of the sacrifices they make every day," Eskridge said. "We are also very supportive of the military families, because while the men and women are deployed, the spouses are the ones who are at home taking care of things."
Military Affairs intends to continue the Military Family Fun Day tradition next semester close to Easter. It will also host Military Appreciation Week in November with events such as a candlelight vigil to honor the fallen, a special military appreciation Convocation and a care-package drive for deployed soldiers.
For more information, visit the Military Affairs Web page through liberty.edu.