Overtime thriller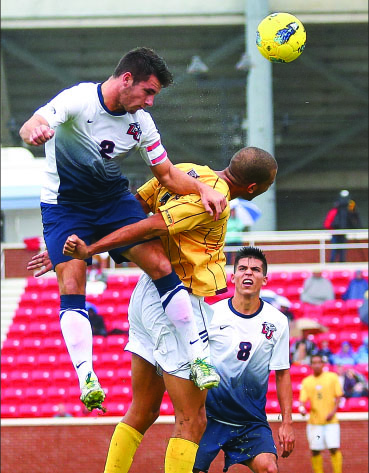 "I couldn't tell you what was running through my mind," sophomore Tyler Bullock said about scoring the winning goal in the second overtime. "All I know is I ran straight to the bench, but didn't have to run far before they all met me on the field, and we celebrated as one."
The Liberty Flames (5-5, 2-3 Big South) were looking for a win Saturday night against the Winthrop Eagles (7-3-1, 1-2 Big South) to keep their playoff chances alive.
Sophomore Tim Harbison put the Flames on the board in the 38th minute, giving Liberty a 1-0 advantage. Six minutes later, Harbison led the Flames to a 2-0 lead with a corner kick that found its way into the back of the net.
"It always feels good to contribute to the victory by scoring, but I was just so pleased with the fight and determination from everyone on the field," Harbison said.
Liberty goalkeeper Jeremy Lee held the Eagles scoreless until the 78th minute. Winthrop's Adam Brundle put the Eagles on the board on a penalty kick. Seven minutes later, Pol Sole' soared one in from the top of the box, tying the game 2-2.
In the final minute of the contest, the Flames had a chance to finish with a corner kick opportunity. The Eagles kept the Flames from scoring, sending the game into overtime.
The Flames were determined heading into overtime, firing four shots in a 10 minute time frame and did not allow the Eagles a chance to score.
With help from midfielder Tanner Wilcox, Bullock was able to find his way to the goal for the winning score in the 104th minute of the game, giving the Flames a victory golden-goal over the Eagles.
"I felt ready to make a difference in this game, and I knew everyone on this team was easy to go out (and) score some goals and get the W," Bullock said.
Liberty outshot Winthrop, 23-14. Lee recorded seven saves on the match to Winthrop's nine.
"This win means a lot to me and the team, because now we have kept our hopes alive in the Big South," Harbison said. "I have always had faith in our group. I just feel like we have gotten caught at some crucial moments in games. So it meant so much to win a game like that with so much on the line."
Liberty will take on the Howard Bison on Tuesday, Oct. 15 in hopes of keeping their winning streak alive.
"A former player from Liberty spoke to us before the game about how playing for God number one, playing for family (the team) number two and playing for Liberty University third will bring you success," Bullock said. "And I think we proved that today."