Moving on up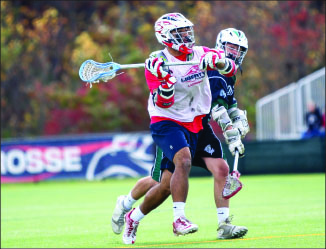 In only its third year, the Liberty University men's lacrosse team has been able to build a successful program. After going 18-3 (4-0, Southeastern Lacrosse Conference) in Division II last season, Liberty was voted in unanimously by the SELC to play Division I lacrosse at the club level.
After winning their first conference championship, the Flames went to the Men's Collegiate Lacrosse Association national championships in May, losing in the semifinals to eventual champion Saint Thomas Tommies.
"I think anytime you have success, it's easy to feed off of that and transition to next year," Head Coach Kyle McQuillan said. "What we are trying to drill home with these guys is that, as much success we had last year and how fun it was, we realistically have to hit the reset button. We are back as the underdog."
For the upcoming season, the Flames will play in the SELC Northwest region that features Virginia Tech, University of Richmond, University of Kentucky, West Virginia University, University of Tennessee and George Washington University.
Liberty already has a history with the George Washington Colonials and the Richmond Spiders. The Flames defeated the Colonials 17-5 last season, but are 0-3 against the Spiders over the last three years.
"We are looking forward to creating new rivalries," McQuillan said. "We've played George Washington for the past two years, even though we were a Division II team. So we have some history with them. We are just looking forward to playing new competition."
The schedule rounds out with key matchups against the Michigan State Spartans and the Davenport Panthers. Both teams finished in the top 25 last year.
"I'm excited about this coming season," McQuillan said. "In order for us to do what we did last year, which is to break into the top 25 and get some respect on the national level, we need to play some ranked teams … Michigan State being ranked in the top 10 is a good way to gauge where we sit on the national level."
McQuillan had a young team last season but was able to gain success throughout the year. He hopes to continue that success at the Division I level with an experienced ball club.
"I'm confident that we are a top-25 team in the first year playing in this division," McQuillan said. "But we still need to prove that and go against teams with national recognition."
Liberty begins its season against George Washington Oct. 12 at the Liberty Lacrosse Fields.