Liberty paintball team takes trophy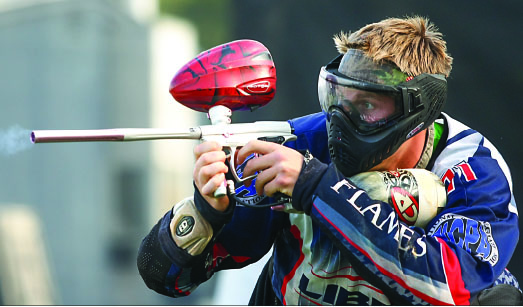 Six schools faced off in pursuit of the Liberty Open championship, the squad's first tournament of the year
With their record-setting 26-player turnout, the Liberty University paintball team headed onto the field Saturday, Oct. 28, at 8 a.m. to defend its home turf against five other schools in the Liberty Open.
According to Head Coach Todd Hoglund, a school's paintball team turnout is usually one or two five-player teams, but for this competition, Liberty prepared five teams of five players. Liberty's teams included the gold, red, blue, white and black teams, which competed against East Carolina, N.C. State, Radford, Georgia State and Virginia Military Institute.
According to Liberty's club sports website, the gold and red teams were composed of top-level players, the white and blue represented the middle-range players, and those in black were Liberty's newest team members.
As a class AA formatted tournament, each team played a best-of-three match against three or four other teams in one round. Liberty's teams won three best-of-three series at Saturday's tournament and lost one series to N.C. State.
According to Hoglund, the most dynamic play of the day was executed during the semifinal game against N.C. State. Team member Jeremy Miller went up the middle of the field and shot outward so he could stop N.C. State from moving up on the outside of the field. The decision allowed the other Liberty players to move up and make the kills needed to win the game.
According to Liberty's club sports website, when players take the center of the field, it is classified as an attack move. The play can either help the team greatly by allowing them to move up the field or hinder them by making the attacking player vulnerable to a kill.
"(N.C. State) hadn't lost a point all day, and we finally took them out," Hoglund said. "That got us over the hump of thinking that we weren't going to make it. Once we did that, then we were like, 'Alright, let's do this.'"
After beating N.C. State in the semifinals, Liberty's gold team took first in the finals against Liberty's blue team. Overall, Liberty's gold team took first for the day, the blue team took second, red took sixth, black took 11th and white took 12th.
"Honestly, even though we got first today, we didn't play the best we could've," Aaron Thompson, Liberty junior captain and gold team member, said. "The games we did lose, we could have won them. The games we won, we should have won them better. So we're going to keep on practicing, keep grinding it out and just look toward the next event."
According to Miller, paintball is different from other sports because communication on the field needs to be constant.
"I think toward the end of the day communication got a lot better, but the first few games we weren't really talking too well," Miller said.
Assistant team captain Noah Burns said Liberty will need to focus on communication and "laning" for future competitions. According to Burns, laning is when players on one team each shoot in a line across the field within the game's first few seconds of play. As a result, members from the opposite team are shot while initially running to a bunker.
"You want your lane to be on point so you kill the person when they're running to their bunker," Burns said.
According to Hoglund, after Saturday's victory, Liberty will continue to work on their skills while also focusing on an upcoming class A conference play.
For information and dates of upcoming paintball events, visit liberty.edu/campusrec/clubsports.