Lady Flames soar past Chanticleers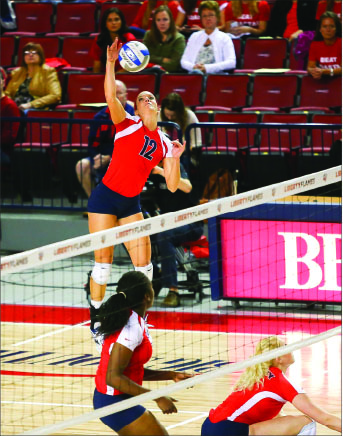 Jade Craycraft recorded a triple-double to lead Liberty past Coastal Carolina during homecoming weekend
After a 3-0 victory against Charleston Southern Friday, Oct. 18, the Liberty University women's volleyball team was looking to keep their home winning streak alive as they took on the Coastal Carolina Chanticleers the next day.
More than 1,000 fans gathered in the Vines Center to witness a 3-0 sweep over Coastal Carolina (25-20, 25-20, 25-21)Saturday.
The Flames are now 5-15 overall and 4-3 in Big South play coming up on the halfway mark on their season.
"This win was a big deal, and before this game, there were five teams tied at 4-2 for first place," Lady Flames sophomore Caroline Douglas said. "We were 3-3, so now we have moved up to 4-3. This puts us in a great position as we are one win away from possibly even being first."
Senior setter Jade Craycraft recorded a triple-double on the match with 30 assists, 10 kills and 11 digs. Craycraft is now ranked fifth in program history with 3,831 career assists.
Douglas led the Flames in kills on the night with 11. Behind Douglas was senior Lillie Happel with eight kills on the match. The Flames hit .283 on the night compared to the Chanticleers .104.
"I am just so excited to be back out there," Douglas said. "After having sat out for about seven weeks, I am just trying to play my role on the team."
The Flames caught momentum early in the first set, gaining a 21-13 lead over Coastal Carolina. The Chanticleers then fought back to close the gap to four (23-19), but the Flames took the win on a Coastal error. Both Douglas and freshman Nzea McQuiterty posted four kills in set one.
The Chanticleers took a 17-14 lead in the second set, but the Flames would not let them hold it for long. The Flames went on a six-point scoring streak, gaining the lead and the momentum to finish the set strong.
Redhsirt senior Kendle Rollins led the Flames in kills in set two with five. Craycraft and Douglas both added four kills in the set as well.
Set three had fans on the edge of their seats with the score 18-17. After three rally points and an ace from Rollins, the Flames took a 21-18 lead over the Chanticleers, leading to another set victory for the Flames.
"I know I am not going to be the star, Douglas said. "I am not going to get however many kills and be the big-time name, but I am there to play a role in bringing energy, stability and courage to team."
Head Coach Shane Pinder said he is proud of his team coming out with a victory over Coastal Carolina and happy to have Douglas back on the court.
The Flames will travel to Clinton, S.C., to take on Presbyterian College Friday, Oct. 25 at 7 p.m.