Daughter honors parents in essay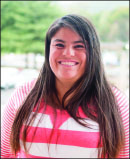 Andrea Giovanetto writes her winning essay about love, grace and second chances
Andrea Giovanetto's essay about love, grace and second chances was chosen as this year's winner of the Outstanding Parent of the Year Award.
According to Theresa Dunbar, director of Parent and Family Connections at Liberty, Giovanetto's essay depicted the "endless grace and love her adoptive parents provided for her."
This is the fifth year for the contest, which ended earlier this month. According to Dunbar, students are given a chance to honor their parents for the love they have received, the example they were given and the sacrifices their parents have made to send them to Liberty.
After the deadline, three judges read the 92 essays, and Giovanetto's essay was in the top two, according to Dunbar.
When the top essays were selected, a fourth and final judge was brought in to read them and narrow it down to the top three. From there, Giovanetto's essay was chosen because, according to Dunbar, "It was well written and told her wonderful life story."
According to Giovanetto, she was inspired to nominate her parents because of the sacrifices they had made for her.
"Without my parents, I would not have the opportunity to attend the world's largest Christian university, to be able to follow my dream," Giovanetto said.
Giovanetto said her parents will be coming to Liberty for Family Weekend.
"We are anxious to meet these fine folks who opened their arms of love to a young 12-year-old Columbian girl and made her part of their family," Dunbar said.
Giovanetto's parents gave her an example that she said she hopes to share with others.
"The love and strong faith in God that my parents have raised me with has given me a sign of hope for other girls in Colombia to have a chance in life just as I did," Giovanetto said.
While at Liberty, Giovanetto said she is studying to become an adoption lawyer. She said she hopes to be able to help others like her have the same chance she had.
"In the future, I plan to build my own house for girls in Colombia and give them another look on life," Giovanetto said.
According to Giovanetto, she was astonished when she heard she had won the contest.
She said she called her parents first, and they were in disbelief as she congratulated them on being Liberty's parents of the year.
Giovanetto and her parents will be honored at the Family Banquet Friday, Nov. 1. The banquet is part of Family Weekend, which runs Nov. 1-3. According to Dunbar, more than 746 families have registered to attend this year, and more than 3,000 family members are expected to attend.
According to the Parents and Family Connections page on Liberty's website, the banquet will feature the Sounds of Liberty along with honoring Giovanetto and her parents.
For more information about Family Weekend and about the Office of Parent and Family Connections, visit their page liberty.edu/admissions/parents.