Basketball coaches lead by example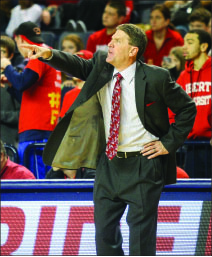 An unexpected journey
After winning the 2013 Big South Championship, Liberty men's basketball Head Coach Dale Layer said the team's perseverance after an 0-8 start was the vital element of the team's season.
"It kind of taught us that we had to work and face adversity," Layer said. "When no one believed in us and no one was really saying anything about us … if we had given up and felt sorry for ourselves, we would've forfeited an opportunity all of these guys will always remember."
Learning from mistakes has been a staple throughout Layer's career, beginning well before he arrived at Liberty in 2009 as the head coach.
After graduating from Eckerd College in 1980, Layer knew he wanted to pursue coaching, but he would have to work his way up the coaching ladder.
"When I graduated from college, I was sort've a janitorial (and) gym attendant," Layer said. "And after time, a (coaching) job opened up, and I was able to do that in the morning and do (the other) in the afternoon. It was a good opportunity to get started."
Layer's years at Eckerd as an assistant eventually led to his first head coaching position at Queens University of Charlotte in 1988.
According to Layer, those years as the head coach at Queens were instrumental
"I learned a lot by trial and error and probably made a lot of mistakes," Layer said. "You're not on ESPN every week, and your games aren't covered by newspapers every night. You make mistakes nobody knows, so I … tried to learn from the things I did poorly."
The trial and error at Queens paid off for Layer, as his 167-87 record over the course of nine years led to an opportunity to be an assistant coach at Colorado State University under Ritchie McKay in 1998.
After McKay left Colorado State to be the head coach at Oregon State in 2000, Layer was named the new head coach.
While at Colorado State, Layer led the Rams to an unexpected NCAA tournament berth by winning the Mountain West Conference in 2003, but the school and Layer parted ways in 2007.
However, McKay and Layer crossed paths yet again, this time at Liberty.
After just two years at Oregon State and five years as the head coach of New Mexico, McKay eventually became the head coach at Liberty in 2007.
McKay decided to bring along Layer as an assistant coach to Liberty, but after just one season, Layer took a job as an assistant coach under Buzz Williams at Marquette.
"(Williams) got the job at Marquette, and he asked me to join him there, so we felt like that was the right thing to do," Layer said. "I think (Williams) is a terrific coach, and I learned a lot being under him, and it was very good for my development."
Layer relished the opportunity to face high-level competition such as Syracuse University, University of Louisville and the University of Connecticut, but his stint at Marquette was short-lived as an unexpected opportunity led Layer to Liberty.
"(C)oach McKay left Liberty to be the associate head coach at the University of Virginia (UVA), and the job (at Liberty) was opened," Layer said.
After just nine months, Layer found himself back at Liberty and was this time the head coach.
"I feel very blessed that (Athletic Director Jeff) Barber and (President Jerry) Falwell, Jr. asked me to come back," Layer said. "I was interviewed at the Final Four, and … am very thankful to be back."
Last season, Layer led Liberty to the NCAA tournament for just the third time in the school's history, but his focus as a coach remains the same — preparing his team and himself for the next day no matter the circumstance.
Green's vital influence
Following his playing career at Liberty University's rival Coastal Carolina University and a series of other coaching jobs, Carey Green made his way to Liberty, where he holds the title of head coach of the Lady Flames women's basketball team.
Green's passion for basketball began with a desire to play at the collegiate level. According to Green, although he did not recognize it at the time, God used his desire as the first step toward the position he now has with the Lady Flames.
"I didn't realize … how God could use a love and a passion for the game … as a ministry years later," Green said.
Following a two-year stint at Roane State Community College in his home state of Tennessee, Green finished his college years playing for the Coastal Carolina Chanticleers.
Although Green wanted to pursue jobs in the oil industry with companies such as Mobil and Texaco, God began to shut the doors to the corporate side and open doors to coaching, Green said.
Green coached at a number of high schools and community colleges in Tennessee before moving to Clemson University as an assistant coach. In 12 years with the Tigers, Green helped the women's basketball team to 11 NCAA Championship appearances, according to liberty.edu/flames.
In the summer of 1999, Green began his career at Liberty. However, Green's decision to lead the Lady Flames was not an easy one.
According to Green, he was asked about his interest in taking a coaching job at Liberty during a phone call he made in reference to a coworker. He was half-hearted about the opportunity at first. However, after refocusing and realizing that Liberty was the place God wanted him, Green said, he chose to accept the position.
"(A)fter surrendering my heart to what God wanted, it was amazing the love and the atmosphere (I was) walking into," Green said. "I had no earthly idea of the blessings I would inherit by just following and being obedient."
In 13 years with the Lady Flames, Green has amassed a winning percentage of .754 with a record of 337-110. Green currently sits in the No. 10 spot for highest winning percentages among active NCAA Division I women's basketball coaches, according to liberty.edu/flames. Green is the winningest women's basketball coach in Liberty's history, as well as in the Big South Conference.
Green has led the Lady Flames to 12 Big South Conference Championships during his tenure and also has a .907 winning percentage against conference foes.
Although Green is proud of his teams' accomplishments, he said that his job is about more than just on-the-court play.
"(Y)eah, you can look at banners and things that are maybe signs of God's blessings, but it was beyond that," Green said. "There was no promise that we'd win a championship. It was just being obedient."
According to Green, the most rewarding part of coaching is being able to make a difference of eternal significance in his players' lives.
"I think, no question, to see … players where they don't know Christ, and they come in and they accept Christ here stands out above all," Green said. "Being involved to make an eternal significance is why we're here."
As Green enters his 14th season at the helm, he hopes to lead the Lady Flames to another Big South Championship and NCAA Championship bid.
The 2013-2014 Lady Flames were picked to win the conference in a Big South preseason poll despite losing several top scorers. Green said that his team is "untested," but that the combination of veteran players and rookies should make for a winning combination.
The Lady Flames begin their season Nov. 8 at the University of North Carolina at Charlotte before returning home to play James Madison University, Nov. 12.