Wilson's two goals propel Flames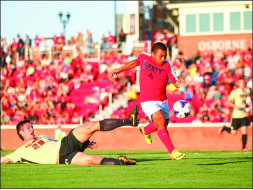 Aggressive play by the Flames combined with sloppy passing by Indiana University – Purdue University, Indianapolis (IUPUI) allowed Liberty (2-0-0) to take an early lead less than four minutes into the game — a lead they never relinquished — as Liberty's men's soccer team went on to win their home opener 4-0.
The Flames played with a high level of energy, resulting in many goal-scoring opportunities.
Liberty ended the first half up 3-0 after recording 12 shots to IUPUI's three.
Flames sophomore forward Sachem Wilson scored the opening goal by intercepting a pass between IUPUI (0-1-2) defenders at the top of the penalty box, and then finished with a shot to the top left corner of the goal. He ended the day with two goals and one assist.
Wilson's second goal came after IUPUI goalkeeper Eduardo Cortes mishandled the ball outside the penalty box. Wilson got ahold of the loose ball and kicked it easily into an empty net.
"Oftentimes, it would be a little stressful, knowing that it would be inexcusable to miss, but I was just playing for the Lord, and I knew he wouldn't be disappointed," Wilson said.
Wilson's assist to Jacob Sebold in the 83rd minute put Liberty up 4-0 with seven minutes to play, effectively closing out the game for the Flames.
Flames Head Coach Jeff Alder explained afterward that he emphasized starting fast and that he was very pleased with how his team opened the game.
In the second half, IUPUI outshot Liberty 7-4, but failed to score any goals. Flames goalkeeper Scott Sutarik recorded five saves on his way to a shutout, playing a key role in preventing the Jaguars from responding to Liberty's early lead. In the first half, Sutarik tipped a high shot over the crossbar to prevent a goal. In the 61st minute, he successfully defended a one-on-one against IUPUI midfielder Gregory Efiom, blocking Efiom's shot to the right of the goal. In addition to his five saves, Sutarik came off his line several times to punch out or grab crosses into the box.
The Flames next game is Sept. 11 at Wofford, which will be first of three road games for Liberty. The Flames will return home to take on VMI Sept. 24.