Students plan getaway to Lynchburg trails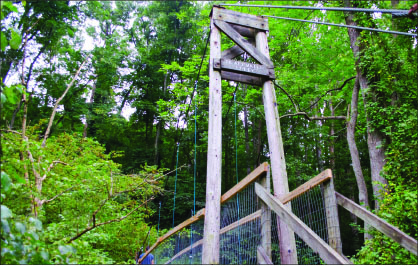 Nestled in the Blue Ridge Mountains, Lynchburg has many different trails to choose from when students feel the need to escape campus life for an afternoon.
"Lynchburg may not have the best places to shop, but (there are) tons of places to hike," Liberty University sophomore Zach Dale said. "Honestly, all you have to do is start driving. You'll always find somewhere to go exploring."
Lynchburg is home to the James River Heritage Trail system. According to lynchburgva.gov, this trail system is composed of Blackwater Creek Bikeway, Riverwalk, the Ivy Creek Greenway, the Ruskin Freer Loop Trail, the Alpine Trail, Point of Honor Trail and the Creekside Trail.
One hiking option is the Blackwater Creek Bikeway, which is located in downtown Lynchburg and is approximately three miles. This trail was built along an abandoned railway bed, according to visitlynchburg.org. An Awareness Garden is located at the Ed Page entrance of the trail, and it is dedicated to those battling cancer. This entrance can be accessed by Old Langhorne Road in Lynchburg.
Throughout the Blackwater Creek Bikeway are many unpaved bike trails for those who are a bit more adventurous. These trails are spotted with steep hills and bring bikers close to the James River.
"I love Riverwalk because it is calm, especially downtown in the midst of the city's hustle," senior Paige Hargett said. "It is simple enough to go out to eat with friends and then stroll on the Riverwalk to enjoy scenery. It is also versatile in the sense that I can do different workout routines like biking or running."
According to lynchburgva.gov, Riverwalk is a 3.5-mile, paved trail and is the most popular section of Lynchburg's trail system. It begins downtown on Jefferson Street and allows visitors to bike, run or walk along trails and bridges. The trail crosses through downtown Lynchburg and allows users easy access to the town's diners or other attractions.
"Lynchburg has a lot of different parks too," Dale said. "Out-of-town students should spend some time visiting the parks in the area, because they are often really well-kept and offer many different options to keep you busy. It's a great way for me to forget about school for the afternoon."
Peaks View Park is a local park with entrances located at Ardmore Drive, Tenbury Drive and Ivy Creek Lane in Lynchburg. According to lynchburgva.gov, Peaks View Park is the second-largest park in Lynchburg, with three tennis courts, seven multi-purpose fields, a volleyball court, a basketball court and a disc golf course.
According to lynchburgva.gov, Ivy Creek Greenway is a paved trail that runs through the center of the park. Other paved trails are scattered throughout the park, which allow visitors to explore the area. Mountain bike trails are also available, along with playgrounds and multiple picnic spots for those looking for an all-day visit.
For students who want to stay on campus and enjoy some scenery after classes, the Liberty Mountain Trail System offers 65 miles of single and double-track trails according to liberty.edu. These trails are located on approximately 5,000 acres along the mountain, which rises over 1,360 feet. The distance and height provide visitors with challenging hiking and biking trails to explore.
"I enjoy being able to spontaneously run to a nearby trail on Liberty's campus," junior Julia Massimilla said.
According to liberty.edu, directional signs, map kiosks and safety signs offer clear directions to users.
Trails in Lynchburg, including Liberty's trails, are open during daylight hours.