Student Activities hosts Outdoor Movie Night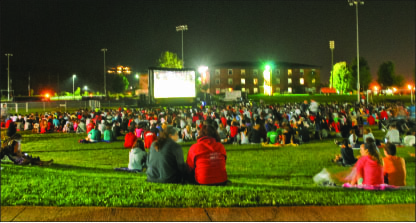 Students crowded the field behind Dorm 28 for a double feature that included "42" and "The Sandlot"
Liberty students gathered under the stars Friday night to enjoy the Outdoor Movie Night hosted by Student Activities (SA) Aug. 30.
Students camped out on blankets with their friends in the field behind Dorm 28 to view the baseball-themed movies, which included "42" and "The Sandlot."
Abigail McWaters, SA member, estimated that there were at least 1,000 students in attendance. SA hosts different themed movie nights and other activities to help students bond throughout the school year.
"Tonight, we chose a baseball theme," Blake Gederberg, a member of SA, said. "We picked a baseball movie that was relevant and then one that was a throwback."
Liberty student Emily Roop said she was excited for the movie choices.
"Considering how the campus hype is about our Division 1 athletics and the upcoming baseball season, I think it was not only a good relaxer for the students but a good lead into the upcoming baseball season," Roop said.
Roop also noted that the location proved to be convenient for many students.
"I liked that it was an easy walk from my dorm (Dorm 16)," Alyssa Carlie said.
Concession stands offered theater candy, soda and water. Free popcorn, peanuts and Cracker Jack were also available at the concession stands to add to the overall theme of the event. McWaters said that SA was pleased with the outcome of the outdoor movie night.
"(We had a) really good outcome for both movies," McWaters said. "We didn't lose the crowd for 'The Sandlot.'"
According to Gederberg, SA is going for a darker theme for the next outdoor movie night and will be showing "World War Z" Sept. 13 at the Dorm 28 field.
For more information about SA and future events, visit liberty.edu/studentactivities.