SA ThinkFast Game Show attracted students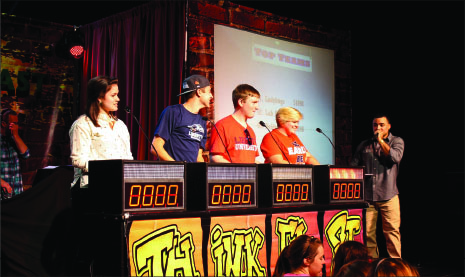 Hundreds of players filled the Tilley Student Center Friday night to compete in the fast-paced trivia event
Students who entered the Tilley Student Center Friday night, Sept. 6, were greeted by loud music and colorful lights as a part of Student Activities' (SA) second annual ThinkFast Game Show.
Hundreds of players and spectators filled both the first floor and the recently added terrace level as at least 60 teams participated in the night of fast-paced trivia for a chance to win prizes, including a $200 prize for the top-place finisher.
SA event coordinator Emily Forner said the event provided a good atmosphere and fun challenge for students.
"The students really like this because it's full of energy," Forner said. "It's a lot of things they know, (and) it challenges their thinking."
Students were able to express their creativity during the SA event, as they came up with their own team names. Some of the names included the Feminists, Truckers, Wahoo's, DixieChix, Morticians and Ladybugs.
Rather than a normal one-on-one game show format, teams entered their answers for two rounds of multiple-choice questions with a remote control. Questions covered topics from music to actors and actresses. The rounds also included a few harder subjects, including math and history.
Thousands of points were available for correct answers, and students were awarded points on a sliding scale. The faster they answered the questions correctly, the more they scored.
As each answer was revealed, point totals for the top teams were also shown, and students loudly cheered on teammates and competitors.
According to Forner, students were able to get to know each other better through the game.
(I)t's really good for … building community and like interacting with each other and getting competitive," Forner said.
In addition to the regular multiple-choice questions, the game was made more interesting by questions with video and music clips and "ThinkFaster" rounds, in which teams had to answer questions with higher point values in an abbreviated time frame. Two 5,000-point questions and several "ESP" rounds, in which students were required to predict how many teams would answer poll questions with specific answers, were included as well.
Although students had already proved their knowledge with previous answers, a unique "Big Bid" question, in which participants could wager any or all of their earned points in a risk-versus-reward situation, was introduced. Teams that were positioned in top spots were pushed down in favor of those that strategized wisely.
The night also included several interactive questions. During each of the two rounds, two students were selected by the host to answer an opinion question in only 20 seconds. Teams voted for their favorites.
Additionally, four students were selected to show their talents in a dance-off and two in a sing-off. In the dance-off, teams voted on students' "Gangnam Style" performances. In the sing-off, participants sang a song a capella for votes. Although the first player had support from the crowd, it was John Reid, a seminary student, who wowed and charmed the crowd with his rendition of "The Phantom of the Opera."
"I was excited, and I knew I was gonna sing Phantom of the Opera, because when I was in my undergrad … we used to do karaoke a lot … and me and my friend would always do that as a duet," Reid said. "It was familiar, (and) I love Broadway, so it helps out. I just came up, (and) I just had fun."
Overall, the game was determined by more than points and talents. At the end of each of the two rounds, the player with the winning 20-second question, along with one player from each of the three top teams, participated in a lightning round. The four participants stepped up to podiums on the stage and used buzzers to answer.
The final championship round included the two winners of the lightning rounds, along with the talent-portion winners. In the most intense round of competition, players were required to answer questions worth 100 points apiece in order to reach 1,000 points for the win. However, if players buzzed in and answered any question wrong, they were booted from the stage.
Junior Matt Johnson strung together several correct answers to take home the win.
"I actually got second place overall in this last year, and I … lost by one (question) last year, and I really wanted the $200 prize," Johnson said.
For more information on upcoming SA events, visit liberty.edu/sa.