Ready to skate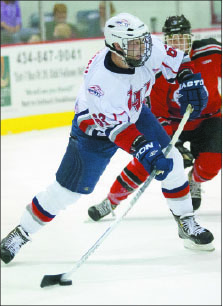 Liberty University's Division I Men's hockey team has high expectations for the upcoming year after finishing last season ranked 13th among American Collegiate Hockey Association (ACHA) teams. With a mix of returning starters and fresh faces for the new season, the Flames look to make another trip to the postseason.
According to Head Coach Kirk Handy, the Flames will be involved in 25 battles versus teams who ended last season ranked in the top 20 in the nation.
"We are looking forward to the challenge week in and week out of playing any of those teams in the top, because they are all formidable opponents," Handy said.
"Going into the season … (there are) certain key games where we need victories," Handy said. "We see those as key elements building up to a national championship."
"Our first game that will be a great test for us is at Ohio," Handy said.
Arizona, Delaware and Arizona State are other teams Handy is looking forward to playing this season.
"Once we get to the tournament, we will be battle-tested and ready to make a long run this year," Handy said.
The Flames trip to the postseason last year started with a win in their first game against John Carroll University, but that was followed by a loss to Ohio in the next round.
In the offseason, the Flames worked on becoming a "bigger, faster, quicker team," and have improved their foot speed and conditioning according to Handy.
Last season, assistant captain defender Matt Sherry had a career-high 17 points and hopes to contribute more in his elevated status this year.
"Work ethic is something that we pride ourselves on, and we are going to hang our hats on this year," Sherry said.
"Last year and the year before we showed up for the big games, but it is the little games that we kind of laid off on, and this year, preparation for every single game like it's a championship game is something we are going to do."
Sherry also talked about the importance of the fan base to the hockey team, and said having good fans is similar to having another player out on the ice. Sherry said he is looking forward to the fans and the game atmosphere this season.
"We had a couple months off in the summer and when you are away from it, you miss it," Sherry said.
Travis Briggs, a Liberty University student and avid hockey fan shared his thoughts about the fan side of the game experience. Briggs described hockey games as an event he looks forward to going to every week with his friends.
"We like to get the good seats, which is the standing room behind the visitors' bench," Briggs said. "(There are) a ton of people … (and) it's such an exciting sport to watch (because) the game is always moving and you never know what is going to happen next."
There will be many different special events and promotions organized by the Hockey Club this season, such as $2 coupons — which will be available through the Hockey Club's Facebook page and Twitter account — food drive nights and prize giveaways during games, according to Club Sports Marketing Coordinator Caroline Schafer from Campus Recreation Facilities.
More information and updates about the team can be found on the team's Facebook page (Liberty University Men's Hockey) and twitter account (@LibertyHockey).