Lee Weeks exhibit showcases art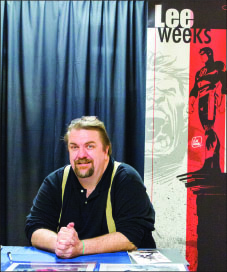 Marvel and DC Comics artist showed students his tricks of the comic book trade, Sept. 19
Students, faculty and families lined up outside of the Liberty University Art Gallery for the opening night of the Lee Weeks exhibition Sept. 19, which showcased some of the comic book artist's best work.
"It's an honor to be here at Liberty," Lee Weeks said as he signed autographs and wowed some of his younger fans with magic tricks. "It's amazing. I've just watched the whole exhibit blossom over the last few days."
The show, which runs until Nov. 10, displayed various pieces of Lee Weeks' work from his decorated career. According to his biography on Liberty's website, Lee Weeks started his career in the early 1990s. Lee Weeks has drawn for both Marvel and DC Comics, but is most remembered for his work in "Angels Unaware" in the Daredevil series.
Guests of the show were invited to browse the gallery while enjoying punch and light snacks. Superheroes like Hulk and Wolverine were just a couple of the many pieces the show had to offer.
Studio art major Shoshana Lin said that although she had spent seven hours setting up the gallery for the show, she still was not tired of Lee Weeks' work.
"I'm a huge comic book fan," Lin said. "I'm amazed at the incredible detail that went into his work."
Lin, who attended a question-and-answer session with Lee Weeks earlier in the week, said that it was interesting to hear him talk about his salvation and listen to some of the tips he had for aspiring artists.
"He showed us how to make things exciting just by placing objects in different ways that you wouldn't really think to do," Lin said.
Carson Dortch, a graphic design major, said that it is great to see Liberty bringing in popular artists such as Lee Weeks.
"It's a great opportunity to see what kind of talent is out there," Dortch said. "I'm really fascinated by what someone can do with paper and a pen."
Dortch's friend Garrett Shue, who is also a graphic design major, agreed how great it was to see Weeks' work up close.
"You just look at the square frames and see what kind of perspective went into creating something like that," Shue said. "It really makes you think as an artist."
Caleb Hall, another graphic design major, was also impressed by the show.
"It's really awesome to see someone like Lee Weeks here at Liberty," Hall said. "I couldn't be happier to get the chance to look at some of this artwork up close. You can look and see where the pencil marks used to be."
Another guest at the show was Lee Weeks' daughter Vaughn Weeks, who is a student and an RA at Liberty.
"I can't say it was like growing up with every other father in the world," Vaughn Weeks said. "Me and my sister probably know more superheroes than a normal 20-year-old girl should."
Vaughn Weeks said that even though she knew that it was a big deal growing up with Lee Weeks as her father, it was not the comic book artwork that impressed her.
"Honestly, I've never seen someone marvel so much at new ideas and God's creation as much as my dad," Vaughn Weeks said. "His love for the Lord is incredibly challenging and very evident in the eagerness with which he talks about his God. I know my dad is a great artist, but he is also a great man."
The gallery, which is free and open to the public, is located on the fourth floor of the DeMoss Hall. The hours are Monday-Friday, 8 a.m.-7 p.m. and Saturday, 10 a.m.-7 p.m.