A 'golden' evening turns dark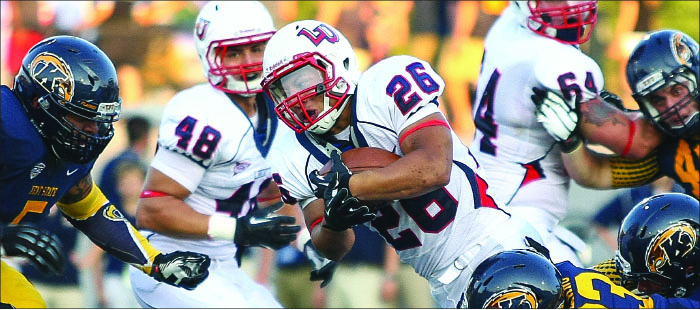 Fourth quarter mistakes hurt Liberty's chances to defeat Kent State Golden Flashes in season opener
Liberty will host its home opener against the Monmouth (NJ) Hawks (0-1) Sept. 7 at 7 p.m.
Due to an ankle injury in the first quarter that caused him to sit out the rest of the game, Heisman hopeful running back Dri Archer was not a threat. Instead, it was redshirt freshman quarterback Colin Reardon, making his first collegiate start, who made an impact for the Kent State Golden Flashes (1-0, 0-0 MAC).
While penalties hurt the Golden Flashes early in the game (eight penalties for 71 yards by halftime), they became the Liberty Flames (0-1, 0-0 Big South) achilles heel late in the fourth quarter. With the game tied at 10, two penalties helped set up a Reardon connection with wide receiver Chris Humphrey, who turned upfield for a 42-yard touchdown that gave the Golden Flashes a 17-10 lead with 4:28 left in the game.
That drive started at Kent State's 12-yard line with 8:01 remaining in the game and consumed nearly four minutes of clock.
"It was no excuse," defensive back Walt Aikens said. "We can't just say we almost beat them because we had a chance to win. We wanted this victory, but we have to move on and focus on Monmouth."
On the ensuing possession, Liberty started at its 14-yard line and faced the student section of Dix Stadium. After picking up a first down on the drive, two plays later, the Flames converted on third-and-five. Quarterback Josh Woodrum showed his poise in the pocket and delivered a 23-yard pass to wide receiver Darrin Peterson. During the next set of downs however, Woodrum and Peterson tried to connect on third and fourth down, but failed, solidifying a 17-10 Golden
Flashes victory.
"I liked the way we played," Head Coach Turner Gill said. "I liked our effort, but they made more plays than
we did."
At the beginning of the first quarter, the Flames offense and defense were stagnant. The Golden Flashes controlled the line of scrimmage, which showed on their first possession. The drive included 14 plays for 75 yards, chewed eight minutes off the clock, and ended with Reardon throwing a 6-yard touchdown to his tight end Casey Pierce.
However, at the start of the second quarter, the Flames found their rhythm. With six minutes remaining on the clock, defensive lineman Chima Uzowihe stripped Reardon when he scrambled out of the pocket, and Liberty safety Jacob Hagen recovered the fumble.
The turnover gave Woodrum and his offense a short field, where running back Clifton Richardson was used exclusively to carry the load on the ground. A defensive pass interference penalty also helped the Flames offense. They were able to get the ball down to the Golden Flashes 3-yard line, but they were not able to punch the ball into the end zone and had to settle for a field goal.
"I'm glad to see the team respond to adversity," Gill said. "It's good to see them come back and play hard and make some more plays on the offensive line. It was great to see our receivers make plays. They did not play a whole lot last year. We are in good shape.
We have a good football team, but Kent State was better tonight."
During the third and fourth quarters, the Flames passing attack was able to burn the Golden Flashes secondary for huge chunks of yards.
On their second possession of the third quarter with 9:33 left, Peterson was able to fight through contact and catch a 58-yard bomb from Woodrum. A few plays later, the Flames found themselves in the red zone again. On third-and-seven at Kent State's 11-yard line, Woodrum lofted a pass into the end zone to wide receiver Gabe Henderson for the Flames only touchdown, which gave them a 10-7 lead.
"We ran the same play twice," Woodrum said. "The first time when (Henderson) started to turn to the corner of the end zone (defensive back Malcom Pannel) blocked him and it messed up our timing. But on the second one he got a quick release and he just got to the corner for a touchdown."
In their first possession of the fourth quarter, the Flames were able to beat the Golden Flashes secondary once more, as wide receiver Dante Shells found himself open on a go route for 29 yards.
"All week we talked about how we really liked our matchups," Woodrum said. "I thought I put some really good balls up there, and our receivers made some plays. I think we took advantage of what we wanted to. We started kinda slow, so that's what killed us. You can't score three points in a half and expect to win a game."
The three-point lead was short-lived as the Golden Flashes relied on their six-foot-one-inch, 248-pound running back Trayion Durham to put long drives together to propel their young quarterback. One drive took six minutes off the clock to begin the final quarter and ended in a Kent State field goal.