King emphasizes God's amazing grace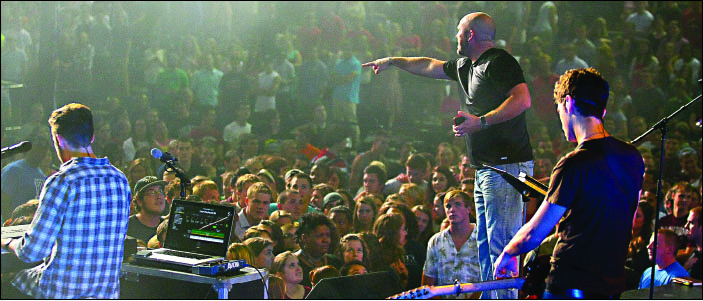 Clayton King brought laughter and tears during this year's Spiritual Emphasis Week, which began Wednesday, Aug. 21. According to claytonking.com, the speaker's official website, he has traveled to 31 countries and 45 states, yet each year he makes the trip to Liberty for Spiritual Emphasis Week to share God's word with students.
"(He is) very passionate about what he does. He acknowledged everyone, and it wasn't just about getting saved but (about) how you can give your life to Christ," Liberty student Corey Sheron said.
As Liberty's campus pastor, King often expresses his gratitude for the school and the students that show love for Christ.
"I think it's kind of crazy that he lives in a different state and makes the trip so often, but I think that says something about how much he cares for the students here," Liberty student Emily Blake said.
King taught from the John 8 story of the woman caught in adultery during his third sermon of the week.
"I like how Clayton King opened my eyes to how the Pharisees set the woman up and how Jesus knelt down in the ground to show humility," Liberty student Aaron Davenport said.
According to King, Jesus did not accuse this woman but humbled himself to save her from the death she was destined to face.
"Clayton King talked about how we are caught red-handed in sin," Liberty student Jordan Ginn said. " … I have a disorder called Raynaud's phenomenon, so many times my hands turn red because of my blood flowing.
Now when I see my hands, I think of the blood of Jesus flowing and the amazing grace found in Him."
At the end of each sermon, hundreds of students came forward, either professing faith in Christ or laying down their guilt and life of sin and rededicating their lives to Him.
"We need to tell Jerry Jr. to build a bigger Vines Center just for the invitation," King said in the closing invitation.
As the president of Crossroads Worldwide, Clayton King's love for students is evident in his unique presentation of the gospel, his humorous tension breaks and the care he shows for Liberty students