Concert brings laughter and song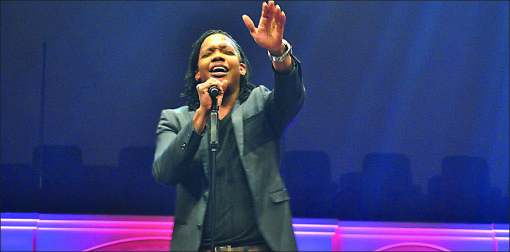 Michael Tate and Brad Stine shared the stage Sunday at Thomas Road Baptist Church with music and comedy
Christian comedian Brad Stine and Liberty alumnus and contemporary Christian artist Michael Tait shared the stage Sunday, Aug. 25, at Thomas Road Baptist Church for a night filled with hearty laughter and passionate music.
Brad Stine made his return to Thomas Road for the first time in 10 years and immediately had the crowd laughing nonstop. By taking quick stabs at members of the audience, he made sure everyone stayed alert for the remainder of the show.
Stine is a well-versed comedian who incorporates the gospel presentation into each performance, making it clear to every audience where he stands religiously. He even used the acronym GOD to get his message across: geniuses, our fault and deliverance.
According to Nashville-born Stine, he got his start when he was young and defined his beliefs from the beginning.
"When I started out in clubs, I always did it clean. It's harder, but that's what makes it worth something, because it means I have to be a good writer," Stine said. "To me, the arts are about reaching the highest level without compromising your beliefs."
According to Stine, clean and family-friendly comedy is something that is increasingly hard to come by in this day and age, but Stine sees it as a challenge and uses that to improve his art.
"It shouldn't be a hindrance, it should foster creativity and make you become even greater than the people who go to a curse word for the punch line instead of cleverness and creativity," Stine said.
Closing off the night was Michael Tait, a Christian artist who is no stranger to the Liberty University community. He attended Liberty in the late 1980s where he met Toby McKeehan and Kevin Max. The three later went on to form DC Talk, a GRAMMY Award-winning contemporary Christian group.
Jonathan Falwell, Thomas Road's head pastor, said he is a huge supporter of both of the night's artists.
"Michael's been a friend of mine for years. Even going back to childhood we were friends," Falwell said. "So it's always fun to be with him."
Tait led the congregation in an a capella version of the hymn "Nothing but the Blood," and hundreds of voices joined Tait's and resounded throughout the sanctuary.
Whether it is music, comedy or any other means of entertainment, according to Falwell, Thomas Road strives to keep Christ at the center and will never dismiss an audience until the gospel has been presented.
"My dad used the phrase 'saturation evangelism,' which is using every available means at every available time to reach every available person, and this has just been one more example of that," Falwell said.