Flames paintball team competes at nationals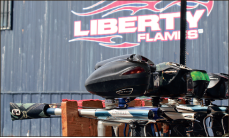 The masked men scattered colored paintballs over triangular inflatable barriers, searching for opponents. Their pants were black, gray and dirty, and strapped onto their belts were magazines of extra ammunition.
According to the National Collegiate Paintball Association (NCPA), Liberty's paintball team ranked second this year in the Southeast Conference of the Class A division.
The first match was played in Lakeland, Fla. Liberty started off slow with a 15-1 loss to Florida Gulf Coast University, according to Liberty's website.
"We all kind of kept a cool head and decided that we hadn't played Liberty paintball that first match," team member Nathan Hawkins said. "Also, we discussed what had worked and what hadn't so we could come up with a better game plan."
Opening with a devastating loss did not stop the Flames from winning their next two matches against Northeastern and Temple before conceding defeat to the University of Connecticut Huskies, 4-3, in overtime, April 20.
"Our goal is always to win a national title, so I think we all were a little disappointed," Hawkins said.
"We had been doing drills, running and scrimmaging amongst ourselves," Hawkins said.
The national championship is the biggest event in which the paintball team competes, according to Hawkins.
According to Flames Head Coach Todd Hoglund, this year was a rebuilding year for the Flames.
"We're just doing what we can with what we got," Hoglund said in an interview for Liberty's club sports website. "For some of these guys, it definitely was a learning experience, their first time playing and starting on the Class A (Red squad)."
According to Hoglund, the NCPA championship was an opportunity for the Flames to show themselves as champions for Christ.
"It was a fun experience but a very different atmosphere then at Liberty, which is one of the main reasons we go — so that we may show how we are different because we have Jesus," Hawkins said.