School of Business hosts career fair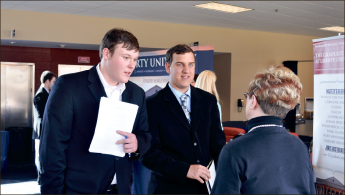 Liberty University's business students and alumni practiced their business etiquette and networking abilities for 28 companies that attended the School of Business Career Fair, Feb. 28 in the Williams Stadium Tower.
The event — which was open to all School of Business juniors, seniors, graduate students and alumni — was hosted by Liberty University's Career Center. The attending companies included governmental agencies, national brands and local businesses.
According to the Career Center, the primary purpose of the event was to provide the students and alumni with the opportunity to network, apply and interview with companies that are based locally and nationally.
"I was very excited to attend this job fair," Mark Jones, a Liberty business alumnus said. "I'm thankful for Liberty University (for opening) up a great opportunity for me to … connect and interact with employees in the business sector."
Companies represented at the fair included national brands such as Wells Fargo Bank, Lowe's Home Improvement, Frito-Lay, Edward Jones and other employers looking to fill part-time, full-time and internship openings.
Gregg Phelps, a representative for Lowe's Home Improvement, was searching for potential employees to take on a variety of jobs.
"We are looking to hire students for jobs of all kinds — seasonable jobs, part-time jobs, week-time jobs. We are anticipating to see who's well-fit for the job," Phelps said. "I expect to see good, quality candidates for jobs — students that have good work ethics and students that are hard-working. So far, Liberty students have met my expectations."
Representatives from other companies also expressed their interest in students attending the fair.
"We are very impressed by the Liberty University students — the professionalism and the unique value of honesty that Liberty students have definitely is an attraction to employees," Wendy Kosie, a business manager from Alpha Six Cooperation, said.
Apart from the booths set up for full-time employment, there were booths with representatives recruiting students for internships. The Washington Fellowship Program, an internship program run by Liberty University's Career Center, also had representatives talking with students about possible internship opportunities.
The School of Business Career Fair is only one of the many career fairs that the Career Center hosts, and the career field changes each time. The next career fair will be the Health Professions/Psychology/Counseling Career Fair, which will be held March 19 at the Williams Stadium Tower.