Men's and women's tennis take tumble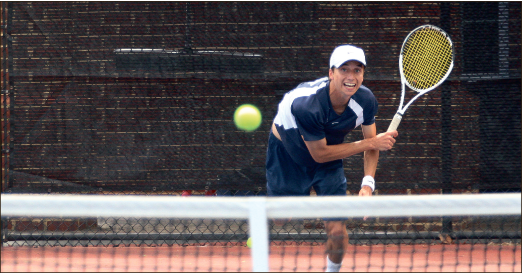 The Flames winning streak ends at six as the Lady Flames suffers a defeat against No. 72 East Carolina
Liberty University men's tennis team played three matches over spring break. The first match was against the Brigham Young University-Hawaii Seasiders, 7-1, and marked Liberty's sixth win in a row.
Liberty's double pairing of Shea Thomas and Egon Samaai defeated BYU's pairing of Zevhan Zakharov and Martin Chojnacki. The duo of Siim Tuus and Stan Vaughan won the second doubles match for the Flames, defeating the Seasiders team of Jordan Barlow and Andy Xing. After winning two points from the double matches, Liberty went on to win the majority of single pairings, 7-1.
The second match for Liberty's men's tennis team was a loss against No. 63 Idaho University, 5-2. The Flames lost in doubles, 2-1. Idaho's Ramos Salazar and Jose Bendeck defeated Thomas and Samaai, 8-5. For Thomas and Samaai, it was their first doubles loss in seven matches. Liberty also lost 4-2 in singles competition. Jorge Azureo suffered his first defeat this season when he lost in two sets to Jose Bendeck, 6-3, 6-4.
Liberty lost its third match, 4-3, against Hawaii. The loss was its second in a row. The Flames dropped the doubles competition, 2-1. Hawaii's Jonathan Brooklyn and Kovalyov Dmytro defeated Liberty's Thomas and Samaai, 8-5.
"Our team had a great spring break in Hawaii," Head Coach Christopher Johnson said. "We fought hard in all three matches. While we have several players with many singles wins, we need to get more consistent in doubles."
After losing two of three matches in Hawaii, the Flames dropped three more in their return home. Two of these were against Big South conference foes Winthrop and Gardner-Webb.
On the women's side, the Lady Flames shut out the Western Kentuckey Hilltoppers, 5-0. In the competition, Liberty won every doubles and single matches against the Hilltoppers to extend its winning streak.
"Winning four matches in a row has certainly improved our confidence," Head Coach Jeff Maren said after the victory. "Our goal has always been to peak in April for the conference tournament, and I believe that our recent wins have moved us another step closer to achieving this."
Liberty's next match was against No. 72 East Carolina University, where they fell, 4-3. While they won in doubles competition 3-0, Liberty lost the singles portion, 4-2.
"After the match, the girls were disappointed because they felt that they were better than ECU and should have won," Maren said.
With the loss against East Carolina, the Lady Flames fell to 6-6 on the year. Although the team lost a close match against the Pirates, they are still confident in their ability to play against the top teams.
"That was great to see, because it means that they are beginning to believe that they are good enough to compete with and beat the top teams," Maren said.
The remainder of the schedule is crucial in determining Liberty's ranking in the Big South Tournament. The Lady Flames next match is a home game against Radford, March 27.