Master's Inn offers free fun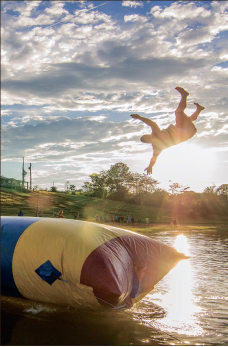 Liberty students can participate in activities at the Lynchburg camp
From paintball tournaments, ropes courses and horseback riding to dodgeball tournaments, hayrides and wakeboarding, The Master's Inn offers many opportunities designed to get the blood flowing — all of which are free for Liberty University students to take part in.
The camp has been around almost as long as Liberty — it was founded in 1974 — and, according to the camp's staff, most employees and volunteers are Liberty alumni or current students.
"It's pretty much the most fun you'll ever have in your entire life," Children's Camp Director Adam Mullins said.
According to the camp's website, The Master's Inn Ministries is designed to share the Gospel with everyone from children to adults through camping and outdoor recreation.
While paintball costs only $5, and wakeboarding costs $10, all of the activities offered are otherwise free of charge for students, according to Mullins.
"We're just awesome like that," Mullins said in reference to the cost. "We just started this program for Liberty students to come out and have a blast. It's something we enjoy doing, so we know you'll enjoy it too. We're trying to get the word out now. It's surprising how few students know about us."
According to Mullins, those who come to The Master's Inn will be hooked. The camp also offers a kickball tournament in March and a night dodgeball tournament in April.
"Paintball, horseback riding and our ropes course are the main things we'll be doing with Liberty students, but there's plenty more to do," Camp Director Sean Mills said.
The Master's Inn has two available paintball courses. One is a smaller course with various natural and man-made obstacles, and the other is a longer field containing two tree forts and crisscrossing trenches. Horseback riding takes students through the forest. The ropes course features a rock climbing wall, a leap of faith from a telephone pole to a trapeze bar, and a mish-mash climbing course through suspended tires, rope ladders and nets.
The Master's Inn website also lists multiple wakeboarding opportunities that will take place throughout the month of April.
"The counselors and staff are easy to talk to, and they make a point to get to know you and invest in you and your life," previous summer camp counselor Julia Weisenstein said. "I made some friends to last a lifetime and learned verses that are forever hidden in my heart. It's amazing to see how (God) works in and through everyone who steps foot on the property — whether they are campers, church leaders or staff. I wouldn't trade it for anything."
According to Liberty Student Activities, they help promote The Master's Inn, and students can find more information about what is available to Liberty students at liberty.edu/sa.
Some of the activities offered have already started, but they will continue throughout the semester. To find out more about upcoming events, visit the themastersinn.com/liberty.