PRSSA plunges for Special Olympics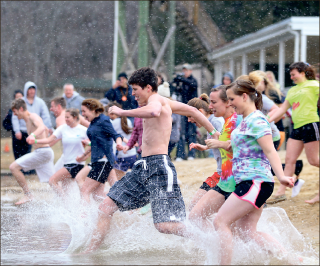 Liberty students combine to raise nearly $15,000 for local charity
Snow flurries silently fell into the frigid water at Camp Hydaway as 150 participants of the Polar Plunge waited for their turn Saturday, Feb. 16. Groups of 20 participants ran screaming into the lake to benefit the Special Olympics.
For the fifth consecutive year, Special Olympics Virginia has teamed with Liberty University's Public Relations Student Society of America (PRSSA) to offer the Polar Plunge, an event during which participants raise $50 each for Special Olympics Virginia before plunging into the lake to show their support.
"My brother's autistic, and he's an athlete, so it's really personal to me because I've seen how my brother has grown," Lynchburg College sophomore Kelsey Hoffman said. "He had been picked on growing up, and when he came into the Special Olympics, his confidence grew. I love my brother. I don't think of the cold, I think of the cause."
Beginning at 10 a.m. and ending at 2 p.m., the community was invited to spend the day at Camp Hydaway. Three local bands played, and local businesses such as Starbucks and Sodexo offered food and refreshments.
"(This event) has grown a ton over the past few years," Matt Camire, the director of Special Olympics Virginia, said. "We're right where I thought we'd be, and we're really encouraged to see all the students here."
According to Camire, Liberty's athletic department is the top sponsor for the Polar Plunge. Liberty donates each year for the activities and gives event tickets for prizes. Liberty also brings many of their athletes to participate in the plunge.
"I was an athlete at Liberty, and when I went to my first Special Olympics event, I was completely changed," Camire said. "Liberty has been a great partner, and it's great to see these other athletes out here since I've moved on."
Participants registered online for the event, and by agreeing to plunge, they also agreed to raise $50 for Special Olympics Virginia. According to Olivia Witherite, PRSSA firm director and Special Olympics Virginia intern, most participants sign up online and then link their registration to Facebook or Twitter, where the participant's friends and family can support the cause through online donations.
Those who sign up can take the plunge alone or with a group.
"A lot of my sorority sisters helped support me because they know my special tie with the Olympics," Hoffman said. "Our team has raised almost $1,500."
Door prizes were offered, with larger prizes such as a Samsung Galaxy S III going to those who were able to raise the most for the cause.
According to Camire, he expects the event to have raised $15,000 or more toward Special Olympics Virginia. Most of the money will stay in the area and be sent to a group of 40 local Special Olympics athletes. The money provides funding for the team's uniforms, travel expenses and sporting event fees. The remaining money will benefit the state's general fund that sponsors multi-day Special Olympic events.
"There's a lot of planning and organizing that goes toward this event," Witherite said. "When you see the athletes and an event like this, you realize that it's all going toward an amazing cause and amazing people."
Those in attendance played basketball or mini golf, or huddled around bonfires as they waited for the plunge.
"It was awesome," Liberty junior Selena Beale said. "Everyone has to do it at least once."
After the plunge, participants immediately left camp Hydaway to dry off. Many, including Hoffman, planned to return next year to further support the cause.