Liberty's pursuit of the crown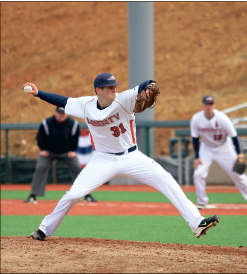 After a 41-19 record last season, the Flames are predicted to finish first in the Big South Conference in '13
The Liberty Flames baseball team marked the beginning of an era Saturday, Feb. 23 with a 4-1 win over Penn State in the new Liberty Baseball Stadium. After finishing second in the Big South Tournament last year, the Flames have their sights set on winning a Big South Championship in May — this time on their home turf.
The team got off to a decent start with victories against the South Carolina Gamecocks and the Penn State Nittany Lions, but according to first baseman Alex Close, the Flames bats have yet to reach their full potential.
"I think we need to swing it better," Close said. "I think we can. We're not there yet. We've got the guys (who) can do it. We just need to get comfortable."
Although the team finished second to Coastal Carolina in the Big South Conference last year, Close said that the team remains focused on taking care of things one day at a time.
"We get too caught up in worrying about Coastal," Close said. "If we just play our game, we're going to beat them."
If the Flames want to meet that goal, they will have to compensate for the five crucial players that they lost to either graduation or the Major League Baseball draft. Despite losing part of their lineup, the Flames baseball team is confident that a new wave of talent can replace past players.
The Texas Rangers selected starting pitcher John Niggli, the ace of last year's team, in the ninth round of the draft in June 2012, but Carson Herndon will take over as the Friday night go-to starter in 2013.
The Toronto Blue Jays selected outfielder Ian Parmley in the seventh round of the draft, leaving the Flames with the task of finding a new leadoff hitter, and junior outfielder Nick Paxton has stepped into that role. The Flames also lost relief pitcher Blake Forslund to the draft as well as shortstop Zack Haley and outfielder Michael Robertson to graduation.
"I think we're just well-rounded," junior outfielder Ryan Cordell said. "We've got some good leadership. Our relievers, I think, are really good. They're going to come in late in the games and do well. We've got a lot of power at the plate hitting-wise, and our defense has been solid so far."
Cordell was named the Big South Player of the Week for the first week of the season after racking up six hits and five RBIs against the No. 5 Gamecocks.
As the Flames get used to a new stadium and new teammates, their goal remains the same — to bring home a Big South Championship.