Lady Flames sweep Rams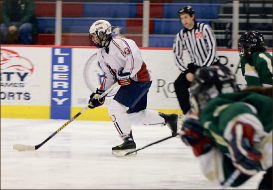 Lady Flames stays perched at No. 1 in the nation with win
The Liberty University Lady Flames Division I hockey team defeated the Colorado State Lady Rams 3-0 Friday, Feb. 2, on the strength of two goals scored by senior Laura Del Monte. On defense, sophomore goaltender Sam Rupp delivered her third shutout performance of the year.
Liberty dictated possession of the puck for the majority of the first period, but brilliant work by Colorado State goaltender Amanda Vandenberg stifled the Lady Flames attack.
"I think our girls passed really well," Head Coach Paul Bloomfield said. "As a result, we were able to carry the puck into their end. We just were not able to get it into their net — their goalie was outstanding."
The Lady Flames eventually did find the back of the net when freshman Keeley Beisinger set up a one-time goal for Del Monte with 1:12 remaining in the period.
"Keeley (Beisinger) came around behind the net and had a nice play and just set it right there for me," Del Monte said. "It was perfect, and I just tipped it in."
The second period started with a strong attack by the Lady Rams, but Liberty's Rupp made a sensational save to preserve the 1-0 advantage for the Lady Flames.
Although the Lady Rams played a much stronger second period, Liberty still manufactured more opportunities and controlled the puck.
Del Monte added her second goal of the night with 8:40 remaining in the second period, after deflecting a wrist shot from the blue line into the back of the net to give Liberty a 2-0 advantage.
"Autumn Kucharczyk took a shot, and I just tipped it in," Del Monte said. "It was a nice shot by her."
Despite their deficit, Colorado State continued to show a lot of fight. Rupp made a phenomenal save after a Lady Rams breakaway to make sure that the Lady Flames maintained the shutout through two periods.
The third period brought much of the same — Liberty dominating possession of the puck.
With 12:28 remaining in the final period, freshman Carrie Jickling scored the third and final goal of the game on a beautiful wrist shot that sneaked right through the legs of the Lady Rams goaltender.
Although a solid outing, the Lady Flames believe that they still could have done better.
"I do think we could have capitalized on a lot more opportunities," Del Monte said. "We definitely could have put a few more in."
Overall, the performance was enough to provide an important win for the Lady Flames, and Bloomfield attributed it to hard work.
"That's what we have practiced for all year long, and a lot of that is chemistry," she said. "Just working and working, and finally, toward the end of the season, it's starting to gel. That's what we've been practicing, and that's what we want to do."
The Lady Flames will return to action when they host Raleigh at the LaHaye Ice Center Friday, Feb 8.