Liberty sponsors academic tour to Rwanda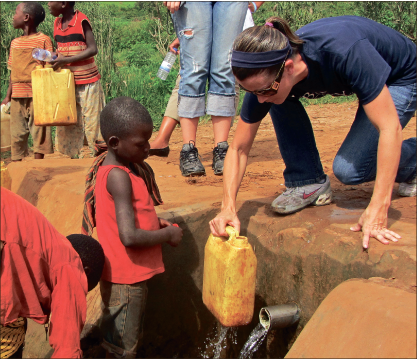 A team of 21 students and faculty members visited the impoverished nation to provide supplies and relief
Liberty University sent a group of 17 students and four faculty members to Rwanda for the fourth university-sponsored trip to the African nation from Nov. 8 to 18.
Dr. Kevin Corsini, Administrative Dean for Graduate Students, and Kevin Struble, Administrative Chair of Liberty University Abroad, led the group. Kathryn Miller of the nursing department and Brandi Chamberlin from the psychology department also went on the trip.
This specific team of students and faculty members was participating in an academic study tour, although the Gospel remained at the core of the trip.
"The trip is centrally about the Gospel and living it out in tangible ways with our African brothers and sisters in Christ," Corsini said. "We have a unique opportunity as a university to make a significant difference in this war-torn country."
"We were able to bring clothes and food, like bags of rice, to many of these villages that don't have much, not even electricity," Struble said. "We brought soap and other hygiene items to one orphan village that had very little of anything, including enough food and running water."
Participants included online and residential students in the counseling, psychology and seminary programs who went on the trip to learn about the genocide that took place in the 1994 Rwandan Civil War that still affects the nation and its people to this day. Each student also took a class in conjunction with the trip in order to receive course credit.
"There is still extreme poverty throughout the country," Struble said. "However, villagers were happy to see Liberty University students because relationships have been formed through previous trips and we are helping to meet some of their basic needs."
"The children's faces light up when they see you return and recognize that you've come back to see them again," Corsini said. "It's so rewarding to see them grow each year."
Miller was brought along to assess the medical needs of the villages and the Star School that Liberty is partnering with. The team purchased medical supplies for the school, and Miller worked with the nurse to help him learn how to meet the medical needs of the students.
"The school that Liberty has partnered with had little medical services and few medical supplies," Struble said. "One little girl had a fungus on her head that could be easily cured with Lamisil and soap, so we bought these items to help her."
Liberty also partnered with Lynchburg City schools and local private schools to collect used clothing items. The team was able to supply nearly 1,000 pounds of clothing to various Rwandan villages. These villages included widows, orphans and a village of reconciliation, where perpetrators and victims of the genocide live together. According to Struble, most Rwandans in the villages only own one outfit and many of them have no shoes to wear.
"At the school, there was a barbwire fence so that children who were not sponsored could not get in," Struble said. "We went around the fence and gave some clothes and toys to those children too. Parents had tears in their eyes because we had given their children something that they could not afford for themselves."
"There is one boy who, for two years, wore the same Bob the Builder sweatshirt because it was all he owned," Corsini said. "This year, the same dirty shirt was on his brother because he had outgrown it. We were able to provide them with new Liberty University shirts, which they treasured as if they had won the lottery."
Liberty also donated 40 laptops, which the team delivered to the Star School. An additional 10 laptops will be delivered to the school by a second team going in March.
The school had no computers prior to the donation. Struble believes that the laptops will help educate the students and could potentially allow for future Liberty University Online classes to be offered at the school.
The team returned to the U.S. with 500 bags made by Rwandans in a vocational school. Some of the students in the school were either prostitutes or orphans taken off the streets. The Liberty University Bookstore purchased the bags and is currently selling them. All proceeds will go back to that vocational school to help more children get off the streets and receive an education.
"This trip has impacted my life in profound ways, and I am forever changed," Corsini said. "We are already making plans for a return trip with strategic partnerships with nursing, engineering, health sciences and counseling."