Lynchburg competition creates growth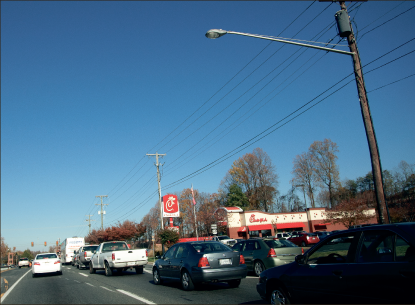 Business redundancy has caused healthy synergy in the Lynchburg economy with Wards Road expansion
Competition can either fuel a fire or force it to burn out. Local businesses on Lynchburg's Wards Road are no strangers to this concept. New franchises create a cluster, congesting the already highly-trafficked area of Wards Road. However, the spike in new businesses raises the question of whether it helps or hurts the local economy.
"It is absolutely helping the local economy," Christine Kennedy, Executive Vice President of Lynchburg's Chamber of Commerce, said. "Growth in new businesses shows that the city of Lynchburg is growing."
Within a 10-minute walking distance, there are three different frozen yogurt places surrounding Wards Road. Within a four-mile radius, there are four Chick-fil-A locations and two McDonald's locations. Different establishments offer similar cuisines surrounding Wards.
"Those businesses are choosing to be in that area because they see potential," Kennedy said. "That is a positive sign for Lynchburg's economy because it means economic growth."
The city's economic achievement has even received national praise. In 2010, Forbes named Lynchburg No. 28 for "Best Places for Businesses and Careers." Milken Institute also ranked Lynchburg No. 35 on the "2010 Best Performing Cities, 200 Largest Metros" list. In 2009, CNN identified Lynchburg as "one of the best places to launch a small business."
Kennedy believes the cluster of businesses on Wards is an advantage rather than a disadvantage. One analogy Kennedy used compared Wards to a strip mall because it also features multiple stores selling similar items. In large, populated areas, there are numerous options for food, shopping and entertainment within a close proximity. The same is true for Lynchburg.
"Having so many different options in one central location is an advantage, especially to Liberty students," Kennedy said. "Parents want to know that their kids are safely getting to places. These are all within walking distance to the campus."
If growth in business and competition continues, one potential result that Kennedy foresees is an infrastructure that may not be able to keep up. More roads will need to be built, and the area will need to be expanded. However, Kennedy does not see this as a disadvantage. She says that it actually shows how well Lynchburg is doing because so many people want to invest in the city.
Wards Road might seem congested at times, but it is all about perspective. According to Kennedy, people who are familiar with high density areas, such as Washington D.C., are not phased by the traffic. However, residents of low density areas see this congestion as a nuisance. With the influx of traffic comes an influx of growth, and with the influx of growth comes an influx of competition, according to Kennedy.
"Any savvy business owner will look at their competition and strategize their marketing and pricing around them," she said. "It's all about consumer preference and taste."
With restaurants like Chipotle, Bloop and Cook-Out residing on one stretch of road, Wards is the hub for dining out. However, Kennedy said that the attention Wards receives benefits more than just that area. Restaurants all around Lynchburg also help spur the local economy.
Kennedy pointed out that Lynchburg is great at focusing on the city in general rather than one significant area. When one area receives attention, the whole Lynchburg community is being promoted.
However, restaurants located downtown will also have to compete with businesses on Wards for consumer preferences. Liberty University Graduate Assistant for the Department of Church Ministries Kate Downing especially approves of the new businesses along Wards.
"When I was a freshman, Wards contained mainly chain restaurants, like Olive Garden and Cracker Barrel," Downing said. "They were great, but got old quickly. Now, Wards offers more choices that are cheaper and specialized."
Downing notices the growth in competition, but does not see it as cutthroat. She believes that the older generation will continue to go to the established restaurants while the younger will go to the newer ones.
Local resident and Liberty graduate student Renee Harvey chooses restaurants located on Wards above any other because of the close proximity.
"It's not the typical boring foods," Harvey said. "These restaurants bring excitement because for three years, (my friends and I) went to the same restaurants on Wards. Now, there is more variety."
With the new businesses, Harvey notices the increase in traffic on Wards. However, she also sees the jobs that are created from these new businesses that give more employment opportunities to local residents. With more options available, Harvey weighs the pros and cons of competing franchises based on pricing.
"Sweet Frog is the original frozen yogurt place," Harvey said. "They have better topping choices. But Bloop has punch cards and more chances to win free yogurt. You can't beat that."
Downing considers cost when choosing a restaurant, but ambience is also important to her.
"I choose Bloop over Sweet Frog because the interior is more appealing," Downing said. "There is more seating, softer colors and better lighting."
Consumer preferences vary from person to person. One thing that Harvey and Downing both approve of is the variety of options now offered.
Kennedy believes that time will tell how well each franchise does. Wards serves as evidence to the growth occurring in Lynchburg.