Campus SERVE impacts community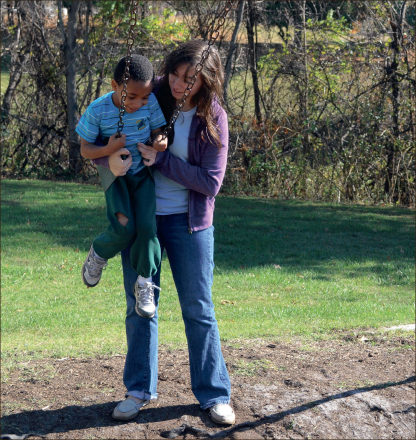 Squatting over a row of vegetables in a small, fenced garden, Aubrey "Chubs" Barbour stood up for a moment to take a rest. The row was small and narrow, and there were patches of weeds on the side, but regardless of its size, the field resembled a small farm in a very urban setting.
"If you had been here approximately three or four weeks ago, you wouldn't have believed what this field looked like. See back there in that area right there?" Barbour said, pointing to a patch of tall weeds. "Basically, that's what (this field) looked like. Look at it now."
Volunteers working with Liberty University's Campus SERVE ministry had cleared the field of waste, irrigated it and weeded it.
"Not only do they help with the gardening, they help out with the community, too," Barbour said. "They cut people's grass, rake leaves, and whatever they need, they are willing to do."
The Yoder community — which Barbour is a resident of — is just one of eight inner sites that Campus SERVE visits on a weekly basis. These ministries mainly focus on helping the children of the community, but they also help with projects like the Yoder garden. Campus SERVE also serves the adult members of the Lynchburg community. They have two teams that visit senior homes and women's ministries for single mothers as well as other special projects, according to Campus SERVE co-director Shaun Dennerlein.
"Two weeks ago, we did a girl's night out," Van Johnson, leader of the Yoder team, said. "About eight volunteers went out and got 10 girls from the community, came to our mutual friend's house and baked cookies."
"So, we baked cookies, we had a lesson about being women of God. We made craft picture frames and took pictures with fun boas and sunglasses," Melissa Adams, another leader of the Yoder team, said. "We're going to print the pictures and give them to the girls so they can have the picture in the frames that they made, just for a keepsake."
According to Johnson, the most important part of the Campus SERVE program is its volunteers.
"Every Saturday, I always tell my volunteers, 'I love you guys, and what you guys do is so amazing,'" Johnson said. "They don't really understand how (important) they are to this ministry."
Although leadership provides direction for any organization, Adams said that there is only so much she can do without the help of volunteers.
"Even though you try to do everything and delegate (as a leader), you can't do anything without the volunteers," Adams said. "All you can do is point them in the right direction and they just take over. It's awesome."
Around 200 students attend Campus SERVE on Saturdays just to fulfill their Christian community service requirements (CSER) at Liberty. In addition to CSER students, there are other volunteers, such as former Campus SERVE leaders, who coordinate with the ministry to serve the community, according to Dennerlein.
"Last week, we had around 450 students," Dennerlein said. "We also have students who just meet us at the sites, and when students have servant evangelism papers due for (Evangelism 101), we have tons of students."
Every Saturday morning at 10 a.m., volunteers meet together with their team leaders in DeMoss 1114 to prepare for the day's outreach opportunities. After prayer and announcements, the groups break off to their respective sites and spend two to three hours serving and evangelizing in local nursing homes, neighborhoods and businesses.
"I think it's a good experience, and a lot of people should try it out once or twice," Lucas Libby, Campus SERVE volunteer, said. "It helps to have a biblical worldview of serving."
According to co-director Andrew Cheatham, there have been about 28 salvations resulting from the ministries in the last two years. Volunteers throughout the years have also managed to impress not only Cheatham, but the communities they served as well.
"I can't speak for other communities, but (Campus SERVE) has impacted this particular community (Yoder) greatly," Barbour said. "These kids are doing a tremendous job."
Students interested in volunteering for Campus SERVE — for CSER or just to volunteer — can contact Cheatham at campusserve@liberty.edu or call 256-698-6484. The last Saturday to participate this semester is Dec. 8.