NFL alumnus update: Rashad Jennings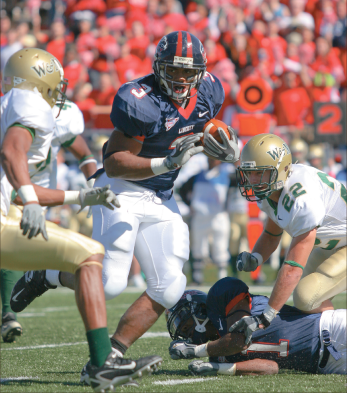 With homecoming just around the corner, the Champion contacted Liberty's most recent success in the NFL, Jacksonville Jaguars running back Rashad Jennings. In a telephone interview, Jennings talked life, Liberty and the NFL.
Run Rashad, Run
With one year of high school ball remaining at Liberty Christian Academy, the running back weighed 268 pounds and ran the 40-yard dash in 4.67 seconds. If Jennings had any hope of continuing to play football, something had to change.
"I knew that if I wanted to be successful in the field that I chose, playing football and playing running back, that I had to make a change," Jennings said. "I just started running. I woke up one day and said, 'enough is enough.' I walked out of my door, living at home with my ma and dad. The YMCA is 3.7 miles from my house. I ran straight there, I worked out all day, and I ran back home. I changed the way I ate and I would run everywhere … instead of walking, I always found a reason to run."
His new lifestyle of running and strict self-imposed dieting did not go without results. Jennings dropped 35 pounds and shaved more than two-tenths from his forty-yard dash time. And it was not a moment too soon.
Do what Doc says
Between 2002 and 2006, Jennings attended two high schools and two universities.
Following his 2005 season at University of Pittsburgh, Jennings was drawn home when his father fell ill. At the same time, Liberty was beginning to think about the long-term future of its football team. Winning only one game in 2005, and none against Big South opponents, Jerry Falwell, Sr. knew that the program needed a spark. In Jennings, Doc saw a familiar face that was just what Liberty football needed.
"He looked at me dead in my face and said, 'Rashad, I know, no question, no doubt that you are going to be the person to help turn this program around and lead us to the point where we are playing Notre Dame,'" Jennings said.
For Jennings, Doc's challenge became his new mission.
"He loved God first, he loved football, and he loved people," Jennings said of Falwell. "I remember looking at him and saying, 'I accept.'"
Led by the slimmed down and ultra-fast transfer running back from Pittsburgh, the Liberty football team turned their fortunes around in 2006, finishing 6-5 and 2-2 in the Big South. Jennings became one of the most highly-decorated football players in program history en route to being selected by the Jacksonville Jaguars in the seventh round of the 2009 NFL Draft.
A Week in Rashad's shoes
A week as a member of the Jaguars begins Monday morning at 9 a.m. The day consists of film, workouts, more film, ice tub treatment and a massage. Players officially have Tuesdays 'off.' But in reality, there is no off day.
For Jennings, Tuesday is set aside for community outreach. Whether it is visiting high schools, libraries or volunteering his time for a charity event, Tuesday is a day for "furthering the kingdom any way I can," Jennings said. He also chooses to use Tuesday to get a jump on preparing for his opponent, which typically means coming in for a light workout and a heavy dose of film.
Wednesday and Thursday he described as "work days," dedicated almost entirely to studying the opponent. The routine on both days is film, special teams meeting, film, practice and then more film.
Friday is a day for medical treatment. Jennings spends time in an ice tub and getting a massage before a work out and final practice. Saturday is a travel day and the opportunity for one last game walk-through. Sunday is, of course, game day.
NFL pedigree
Jennings has two older brothers who also played in the NFL. Butch and Bryan Jennings, both considerably older than Rashad, played approximately ten years ago for the Giants and the Chargers, Patriots and Titans respectively. Their advice to their little brother: take care of business and enjoy yourself.
"Stay focused and have fun," Jennings said about the advice he received. "They instilled so much in me before the NFL. It's just practicing what they've been preaching the whole time. Lead by example and understand that it's a privilege to play."
While the advice Butch and Bryan gave is timeless, Jennings was quick to agree that the NFL that he plays in is not the same NFL of the past.
"I talked to them about it. Guys keep getting bigger. Guys keep getting faster."
The growth of the media has also contributed greatly to the modern sports sphere. While greater coverage has obviously been good for the growth of the sport, the media microscope has led to a greater accountability — something healthy, but difficult for many athletes.
"Some of the older guys of the league that played 30, 40 years that I have run across and talked to say they that they couldn't have played in the league today because of how strict it is," Jennings said. "We get called out for everything. You just saw somebody got a DUI yesterday. With Facebook and social media and everything that goes on, we slip up for one second, and it's all over. It's all over ESPN, it's in the newspapers, it's everywhere."
But Jennings said that the changes have been for the good of the game.
"It's become more clean, strict — and I appreciate that, you know? It's a business. We're professionals, and that's how we're supposed to conduct ourselves."
NFL's Black-eye
The professional image of the NFL was tarnished this past offseason with the revelation of secrets involving a bounty program. Allegedly, some players paid into a pool that awarded those who managed to take a key opponent out of the game. For Jennings, the thought of seeking extra pay for inflicting injuries is simply shameful.
"With what we do for a living, you don't need an incentive to do what we do. I mean, it's a physical game … you don't need an extra incentive to hit somebody," Jennings said. "If you play the guitar for a living and I purposely cut your finger off, then I'm taking food out of your family's mouth. If we're playing football for a living and I purposefully do something to injure you and take you out, then it should be frowned upon."
The Human Cost of the NFL
Perhaps even greater than the bounty scandal was the tragic news of the suicide of long-time San Diego Chargers linebacker Junior Seau. The long-term effects of concussions became a popular talking point this off-season as a result of the incident.
"As a unit, we should be more attentive to (concussions) because there is a longevity after ball," Jennings said. "When you have guys in their 40s and 50s with all kinds of crazy diseases coming on, it's kind of scary. That's why I take care of my body. And I'm very cautious about it."
Once a Flame, always a Flame
The changes to the landscape of Liberty football, namely the rumblings of Liberty joining an FBS conference, have Jennings very proud of his alma mater.
"I'm completely excited. I'm from Lynchburg. That's home for me," Jennings said. "I'm always going to be a part of it, and I have a lot of ideas about how I'm going to help out with Liberty and ways for me to give back because that's my city, that's my home town stomping ground."
As for the slow start to this year, Jennings is not worried.
"It's a hard schedule. When there's a new coach and you have new recruits, new philosophy, new scheme, you kind of have a few scratches you have to scratch off."