Natalie Barr: Olympic torchbearer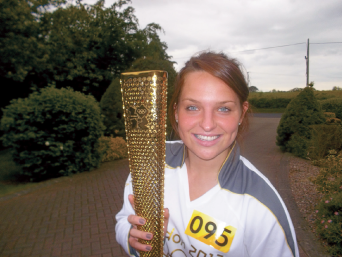 LU field hockey player and member of Irish national team serves on Ugandan missions
Of all the athletes qualified to carry the Olympic torch, the physical symbol of the competitive spirit and sportsmanship of the Olympic games, Liberty field hockey player Natalie Barr was selected as one of the torchbearers on June 3 in Ballygally, Ireland as it made its way toward London.
"I remember the torch was heavier than I anticipated," Barr said. "It was such an experience, and it was such an honor, and I think of it as a once-in-a-lifetime opportunity."
She was nominated for the position due to her background in playing field hockey for the Irish national team and because of her interest and involvement with charity work in Uganda with her family.
Ireland National
Barr first started playing field hockey during fifth grade, when her physical education teacher, Audrey McCollum, asked her to come to the school's hockey practices.
"It's funny because I really didn't like it at the start," Barr said. "But if it wasn't for her pushing me into it, I wouldn't be here today."
Under the tutelage of her teacher, Barr was selected to the Ireland national hockey team at the U16 level at the age of 13.
"I was just going for the experience," Barr said. "I was really surprised that I actually got on the team."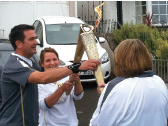 Barr showed promise playing for the national team and was named captain for the U16 and U18 levels. She had success with the national team in European tournaments and has won a bronze medal at the U16 level as well as a gold medal at the U21 level.
"Representing your country is something else," she said. "I'm really blessed and just thankful for that opportunity."
Although her career speaks volumes about her athletic abilities, the thing that stands out the most about Barr is her heart for Uganda.
Charlene's Project
Barr's interest in Uganda first sparked when her family took a trip to Uganda in the Christmas of 2008. She and her family witnessed children walking miles to get to school and saw that education was in desperate need. After seeing the conditions of children in Uganda, she realized that she wanted to become an elementary school teacher.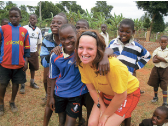 "I always had an interest in (becoming a teacher), but it was in Uganda that I saw the absolute need for education for the children there," Barr said. "I saw the important roles of the teachers that can play on not only the children but to the whole community."
Barr is now an elementary education major at Liberty University and has made many trips to Uganda during her spare time.
"In the long run, I want to work in Uganda," Barr said. "I feel that God has laid that on my heart, and I constantly pray and think about that."
Her trips to Uganda are mostly to the school called "Hidden Treasure" that her late sister built through her charity. According to Barr, her older sister Charlene was also deeply impacted when she saw the underprivileged conditions that some Ugandan children had to live with.
"Charlene was born with cystic fibrosis," Barr said. "It really impacted her because she saw that children born with this disease in Uganda would not have lived to the age that she (did)."
This realization would become more apparent for Charlene when she returned home from her family trip from Uganda in 2008.
"Within a few months, we saw her health deteriorate dramatically, and she had to drop out of school," Barr said. "During that time, she decided that instead of trying to go to school with the short amount of time she had, she would try to raise money to build a school in Uganda."
Soon after, Charlene started a charity organization named "Charlene's Project," and the charity raised over $190,000 before she died in October 2010. According to charlenesproject.org, the charity has built a school that can house 250 children, constructed a well for the community surrounding the school, and is building a second school in partnership with Build-Africa.
"This would be exactly what she'd want us to do, try to bring hockey and education to Uganda," Barr said.
Barr will continue to carry on her sister's will by visiting her sister's school in Uganda this summer with the Liberty women's hockey team.
"When I carried the Olympic torch on the third of June, the next day I was leaving for Uganda," Barr said. "Our family thought that (the torch) symbolized us as a family that it's a part of Charlene's project, trying to carry on her project to people in Uganda and in Northern Ireland."