Lynchburg runs for their lives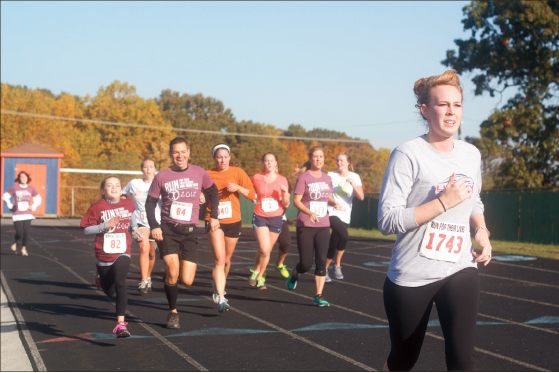 Liberty University students and Lynchburg residents gather at Heritage High School to support Freedom 4/24
On a cold Saturday morning in October, the City of Lynchburg rallied together for a common cause: to fight for the lives of women and children facing the daily realities of sex trafficking. Over 2,000 participants gathered in the parking lot of Heritage High School Saturday, Oct. 20 in anticipation of the 1k, 5k or 10k race held on Leesville Road. "Run for Their Lives" benefited Freedom 4/24, which fights the devastating effects of sex trafficking — globally and domestically.
The price of registering for the race was $24, which gives Freedom 4/24 the opportunity to buy one woman or child for an entire night, saving them from the hands of the men who would regularly buy them in the sex trade. This one night allows Freedom 4/24 ministries to offer the victims spiritual and emotional care in hopes of freeing them from the grip of prostitution.
"It is inspiring but devastating that there is such a need for this ministry," Natalie Barlotta, a volunteer at the event, said.
At one registration booth, runners were given the chance to read five stories about women who Freedom 4/24 ministries helped. Runners selected one woman and had her name written in Sharpie marker on their arm to remember the cause while competing. John Dupin, the pastor at Brentwood Church, led the participants in a time of prayer and remembrance of the victims before the start of the races.
"I was running and praying over the girl on my arm. It was really empowering and makes you want to run faster," Haley Van Ness, a freshman from Liberty University, said.
The event was especially emotional for those who have had the opportunity to travel to the places most affected by sex-trafficking.
"Last year, I went to Thailand, so today is emotional," Aimee Blanks, a Liberty alumni volunteer, said. "I was there 10 days, and one conversation I had with a sex-trafficking victim will forever speak to me. The more aware you are of the cause, the more you want to do."
Sex trafficking also affects the women and children within the realms of the United States.
"We have a lot of freedom we take for granted," Joshua Calloway, a participant in the race, said. "The race is an opportunity to give people the freedom we have all the time."
After the race, participants were offered refreshments as they gathered to have conversations on the football fields of Heritage High School.
"It was a very fun environment to run in," Libby Campbell, a sophomore at Liberty, said.
At the time of the races, 11 individuals in China were also running for the Freedom 4/24 cause, demonstrating the global effect that the ministry often encourages.
"If more people got involved, we could put an end to it," Van Ness said.