Liberty football fanatics gather at Gillville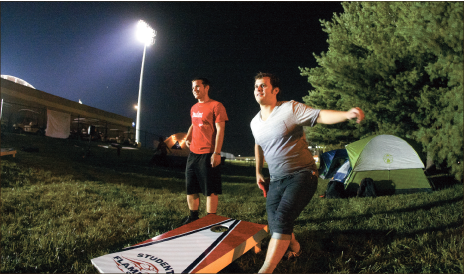 Through the efforts of Liberty University's Athletics Marketing, the Student Flames Club and a dedicated group of student fans, the five-year tradition of camping out before Liberty's football games continues with the 2012-13 football year under a new name, Gillville.
This camping tradition serves "to continue to create unique traditions for students to get involved and invested in the athletic programs here at Liberty," Liberty Athletics Marketing Assistant Brett Metcalf said. "It allows them a fun opportunity to get out of the dorm for a night, camp out with friends and have a fun time supporting Liberty football."
Gillville has seen 25 participants for the first home game this year, a number that has continued to grow to 65 for the last game against Lehigh.
"We reward those who are dedicated to the sports teams here and try to make the atmosphere as fun and memorable as possible to keep them coming back," Metcalf said.
According to Metcalf, students can participate for $1, which gives them early admission into the game, late night pizza and drinks provided by Domino's, and donuts and juices the morning of the game delivered by Head Coach Turner Gill. Participants also experience the entertainment setup, watch movies and listen to music while camping out.
"Gillville is an awesome and growing tradition at Liberty. You get to enjoy games, movies and food for $1. I would recommend it to every student, and they are sure to have a great time without breaking the bank on a Friday night," Liberty student Ben Akers said.
"Students who take part in Gillville for at least four of the six games this season will receive an exclusive Gillville T-shirt," Metcalf said. "The more people we have out there, the more we are able to reward (students) and make it a great atmosphere.
All students are encouraged to come camp out and have a memorable time. Coach Gill truly appreciates the students who come out and has spent a lot of time talking with them and taking pictures."
"Gillville is not only a place to show your support for Liberty's team, but it's a great event to make new friends that are just as passionate as you are for Liberty football," Liberty student Charlie Holder said.
"Gillville is an awesome place to come the day before the game to spend time with friends while getting to enjoy camping," Liberty student Bobby Mead said. "The chance for students to get out of their dorms for the night and have some great times is something that everyone should experience, and there is no better place than Gillville."
For more information about Gillville and how to get involved, email Brett Metcalf at bmetcalf@liberty.edu or call (434) 582-4450.