Hockey wins high-scoring affair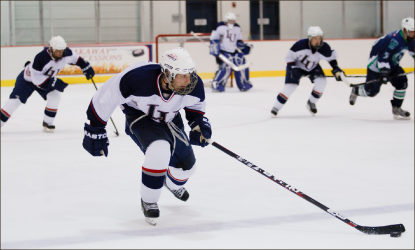 It was an exciting night with an unexpected turn out in the LaHaye Ice Center on Friday, Oct. 5 as the Liberty Flames D2 hockey team defeated the Wolfpack of North Carolina State 9-5. The high-scoring game saw most of its goals in the first period, with a few fights and a penalty shot or two before it was all over.
In the first period, the Flames came out hot, putting up two points with in the first 10 minutes. John Cotton struck first by returning a rebound past Wolfpack goaltender Nick Kamaris. Five seconds later, the evening's top goal scorer Brad Docksteader got his first puck past Kamaris.
The Wolfpack answered back four minutes later when Alec Engel cut Liberty's lead in half. However, Aaron Semiao returned the favor, restoring the two-goal advantage.
Docksteader's second goal of the evening put Liberty in the lead 4-1. Cotton struck again from a back door pass to score the last point in first period, putting the Flames at 5-1.
The second period started with a Wolfpack penalty shot taken by Mike Reisland, bringing them within three. The Flames retaliated with an effort by D.J. Dinnison off an assist from Cotton. With only two minutes left, Engle snuck one past Liberty's goaltender Justin Gortman. The period had finished with Liberty maintaining their three-goal lead, 6-3.
Halfway through the third period, N.C. State's Mackie Hayman threw one in on a breakaway to bring the difference to two. However, their excitement was short-lived. Liberty's Clinton Nigh slapped in a goal off a rebound to bring the score to 8-4. The teams traded one more goal each, and Dinnison got his second of the night with one minute left on the clock.
Dinnison had a major part in the Flames offense on Friday with his two goals and several assists on the evening. He was excited for the victory and looking forward to the next match.
"It feels good," Dinnison said. "I'm really happy that we got the win. I think that we could have toned it up a little more defensively, and we are going to work on that a little more in practice."
Liberty's Head Coach Chris Lowes was impressed with what he saw Friday evening and is excited about the improvement that his team is making.
"Coming into the game, we tried to keep it simple and eliminate mistakes," Lowes said. "We gave away five goals to a team that we were better than. That's not a great thing, but we probably had 35 great minutes out of the 60 that we played well in."
The team seemed to improve as the night went on, and not many changes were made between the periods.
"I think our lines were collecting a little better," Lowes said. "We scored quite a few five-on-five goals, so our lines are starting to have a little more unity. We are starting to learn each other a little better."
According to Lowes, there is a lot that the Flames will be able to take away from this win.
"After this, we will be able to have a good video session, and we will learn a lot from that and see a lot of the mistakes we made."
Liberty adapted well to N.C. State's defensive scheme, and Dinnison was able to pick up a few things to use to his advantage.
"I think that we are going in and crashing the net a lot more," Dennison said. "What wasn't working was we were kind of puck watching. We weren't picking up guys in front of the net, and they got a lot of goals that way."
"Personally, I have great line mates," Dinnison said. "We work really well together and have a great chemistry. We see the ice really well, and it felt really good to have that tonight."
Liberty's D2 hockey team will face East Carolina University at the Raleigh Ice Center before they have a rematch with NC State next Saturday.