Flames drop third straight match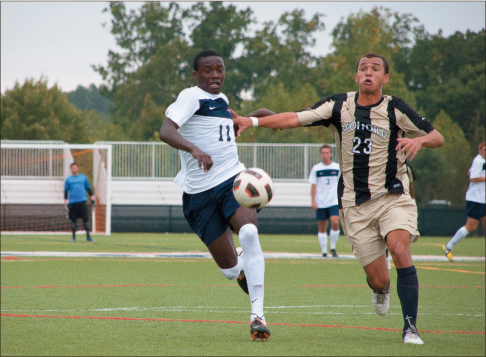 Two inches made the difference in the men's soccer game Saturday, Sept. 29 when Liberty University played Wofford College.
Wofford player Connor Davis, who is 6'1", scored two goals just over the heads of Liberty defenders Greg White and Tim Harbison, who are both 5'11", to give his team an edge over Flames, winning 3-0.
"They were opportunistic today. They took their chances, and we didn't," Liberty Head Coach Jeff Alder said.
Five minutes into the game, Davis headed in the first goal off of a corner kick, and the second goal came a minute later when Davis scored on a header — this time on a ball received on a long throw-in.
"Surprisingly, the goals motivated us," Liberty forward Kyle Breitmeyer said. "I think we played our best soccer after they got their second goal, and we were really taking it to them in the second half."
The Flames outshot the Terriers 16-9 and had five total corner kicks compared to Wofford's two. Wofford also saved six shots on goal, while Liberty saved four.
"Unfortunately, they did what we couldn't do, and that was score goals," Liberty midfielder Johnny Torres said. "Soccer is not about playing pretty. It's about getting results, and they were able to do that."
The third goal came in the 62nd minute, when Wofford's Alex Hutchins scored off a penalty kick. The penalty was called when Harbison brought down Hutchinson with an illegal shoulder tackle inside the penalty box.
"I didn't think it was a foul. But I asked the ref about it, and he felt that our guy was a little bit behind (Hutchinson)," Alder said. "I told my guys that the referee had no outcome on the game, and that we had to finish our chances."
The game also saw 21 total fouls called, with Liberty on the guilty end of seven of them. Yellow cards were also given out to both teams — two for each team — resulting from unsportsmanlike conduct.
"It was definitely a heated game, and it got a little scrappy at times, but that's soccer," Torres said. "It's really rare to see a soccer game where there's no fouls, kicks or knocks."
After the third goal, there were several shots taken on both sides of the field, but Andrew Drennen blocked all remainder goals for Wofford and Scott Sutarik for Liberty.
"I'm proud of our guys because they stayed till the end, and it was cool because Wofford gave us a chance to share the gospel with them after the game," Alder said. "I told the guys that regardless of how good or bad things go in life, we still have to stay true to our mission and be willing to say, 'Okay, we took one on the chin today, but let us tell you about our God.' And thankfully, Wofford gave us a chance to share with them after the game."
Liberty's season record is now 2-6, but their conference record is 1-1. They will play their next two games at home against Campbell University and American University. The game against Campbell University will be a conference game, while the game against American University will be Liberty's last non-conference game.