Field Hockey notches eighth win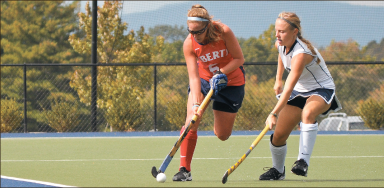 Lady Flames escape with 2-1 victory over Villanova
The Liberty Lady Flames field hockey team added to a four-game winning streak with a 2-1 triumph over Villanova University this past Saturday, Oct. 6, at 1 p.m.
This is the eighth win for the 2012 season, and with a five-game winning streak, it has made it the best start in Liberty program history. The game was a great success for the team and a great addition to Liberty's Homecoming Weekend.
"Overall, I think we did really well," Head Coach Jodi Murphy said. "The first half for us started very strongly, and in most games, that's the trend that we've had. The second half the team we're playing comes out with a lot more fire … but I felt like today we finally put together 70 minutes, which is a really big goal for us in the season."
Natalie Barr was able to come through with a goal in the first period, making it 1-0 at the half. Sophomore Helen Doolittle, who led the team in goals and points for the 2011 season, scored the second goal of the game, making it 2-0.
"I think we did really well as a team and played really well from the start," Barr said. "We got more into it the second half, and we just gained so much experience from that game. We went in with the intention of getting more experience and came out with a win, and we're so happy."
Big East opponent Villanova scored a goal within the second half, leaving the game with the ending score of 2-0.
"The season's going really well," Murphy said. "After this weekend, we go into the second half of the season, which is the NorPac League, which to me is the most important part, so everything that we've done up until this point has just been a stepping stone for those games."
According to the NorPac Field Hockey Conference 2012 season standings, the Lady Flames are ranked No. 3. The tournaments begin Nov. 1 in Farmville, Va., and the Lady Flames are anxiously preparing for it, using these great triumphs as experience for the conference games.
"We came out really strong and really played well together as a group," Doolittle said. "It's definitely a building season. We've grown so much as a team since the beginning, and it's exciting to see really how far we've gotten, and we are excited for the rest of the season, especially as we get into the NorPac conference games."
The Liberty Lady Flames will be continuing their season Oct. 12 with a game against NorPac opponent Radford College.