A game of redemption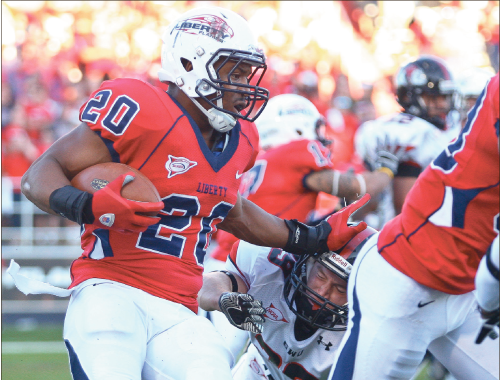 Gardner-Webb quarterback Lucas Beatty came into Saturday's contest having completed 62 percent of his throws for 761 yards, one touchdown and four interceptions. Playing against an injury-depleted secondary in Lynchburg, he seemed nearly incapable of throwing an incompletion, connecting on 94 percent of his passes for 301 yards and one touchdown in the first half alone.
For a Liberty team that had rationed away a 0-4 start with the promise of a conference sweep, the first half was not promising. But the second half was all about redemption and retaliation — redemption for a humiliated secondary, redemption for a tight end that dropped a sure touchdown, and redemption for a team that has come up just short every week thus far.
Liberty finally showed that it can finish a game, winning its sixth straight Big South opener and its sixth straight victory over the Runnin' Bulldogs by a score of 42-35.
"I'm proud of our players. They showed great character. This was a character win," Head Coach Turner Gill said. "Sometimes you go through ball games, you go through seasons, you go through a lot of games and practice and different things, and you have to find a way to overcome some adversity. And they demonstrated how they are so committed to this staff, how they are so committed to our fans and to this football program."
"We were hungry this week," quarterback Josh Woodrum said. "Our out-of-conference games — we wanted to win them obviously, but they are not our season. The conference is our season … it's really hard to win this conference if you lose one game, so we take each game like a championship game, and I think that's how we came out and played tonight."
Down by 18 in the second half, with perhaps the fate of the entire season hanging in the balance, the Flames went on an 18-point scoring run to tie the game at 28. The comeback was sparked by a 99-yard scoring drive engineered by freshman quarterback Josh Woodrum.
"Coach Stamn and the staff put together a great offensive game plan, and then Josh just went out there and balled out and made all the throws he needed to throw," wide receiver Pat Kelly said. "He just did a great job of leading. I think today was a big time step in his career."
After calling his own number on two consecutive quarterback keepers, Woodrum hit Justin Gunn for a 13-yard pass on third down that sustained the drive. Gunn finished the night with two first downs and one touchdown.
"When coach came over, he was like, 'That was a good 99 drive.' I was like, 'Eh?' I didn't even realize we had just gone 99 yards, but I had a good third down conversion to Gunn, and then we just kept driving from then on."
Relying heavily on dump-off throws and screen passes to his backs, Woodrum methodically moved his team down the field. Woodrum finished with 373 yards through the air, but perhaps the most important throw of the evening came from the arm of Aldreakis Allen.
Allen, who confessed he had never thrown a pass in his entire football career, connected on a 15-yard scoring strike on a pass option play to close the deficit to within five. The Flames went back to the air again on the two-point conversion, with Woodrum hitting Kelly to bring Liberty to within three.
"We'd just been pounding the rock with 'Dreak (Aldreakis Allen) so far, so we just pitched it back to him, and Gunn ran a little corner route, and we made a good toss and a good catch," Woodrum said.
Lunsford nailed a 33-yard field goal three minutes later to tie the game at the close of the third quarter.
Not to be outdone in a game in which they had dominated so long, the Bulldogs answered the Flames 18-point run with a six play, 71-yard scoring drive to reclaim the lead 35-28.
The Flames responded, scoring on a 45-yard touchdown pass to Ryan Ferguson. Though it began as a short screen pass, Ferguson was sprung loose on a block by Gunn and ran completely untouched to the end zone.
The screen game was especially effective for the Flames, thanks in large part to the blocking ability of the wide receiving corps.
"Perfection — there was nobody around me," Ferguson said. "I give credit to Justin Gunn on that one. He came out there and got the corner and set it up perfectly. Josh put the ball where it needed to be, and it was just off to the races with that one."
"I think blocking is just an attitude thing," Kelly said. "Coach Taylor has done a great job with us. One of his sayings is just, 'You got to make it mean something to you.' Going out there realizing, 'Hey, we can just be physically imposing. We got to shut these guys down, and if we do, we can have some big plays.' We did do that tonight, and we did have big plays."
With the game tied at 35, cornerback Walt Aikens, who had been victimized by Gardner-Webb receivers the entire first half, came down with an interception that gave the ball back to the Liberty offense at the Runnin' Bulldogs' 31-yard line.
"I had to have a mental check, had to check myself to see if I'm ready for this game. My back was against the wall," Aikens said. "I just felt I had to do something to avenge the first half. The first half, I didn't do anything. So second half, I came out with a different mindset."
"He was having a little bit of a rough first half — the offense had a good scheme," defensive captain Bryant Lewellyn said. "Gardner-Webb was playing really well. Their quarterback and their receiver corps were doing really well. But like I said before, he's a big player, so he stepped and really made some big strides in the second half."
Woodrum wasted little time taking advantage of the turnover, hitting a wide open Brandon Apon in the back of the end zone on a play-action pass. The go-ahead touchdown served as redemption for the tight end who had dropped a sure touchdown in the second quarter.
"Just to have the blessing of being able to redeem myself, I was elated," Apon said. "It was an unbelievable feeling."
On the ensuing possession, Aikens forced another turnover, jarring the ball loose from Seth Cranfill. Lewellyn recovered the fumble.
"I saw that ball come out," Lewellyn said. "I was running towards the ball, trying to get in on the tackle, and saw the ball come out and was just like, 'This has to be ours because this is what's going to win the game for us right here. It's going to shut it down.' So I just dove as far as I could and pulled that ball in tight."
After a couple of first downs, courtesy of Aldreakis Allen, Liberty lined up in the victory formation. The win moves Liberty to 1-4 overall and 1-0 in Big South play.
Big South Update
Around the league, Stony Brook defeated Charleston Southern University 49-7, Virginia Military Institute (VMI) defeated Presbyterian College 17-7 and Coastal Carolina University had a bye. Last weekend's results leave Liberty in a three-way tie with Stony Brook and VMI for the Big South lead. Liberty will travel to Presbyterian Oct. 13, 2012.
See "The Anatomy of a First down", a photo gallery of Aldreakis Allen.