Yogurt Yeti attracts students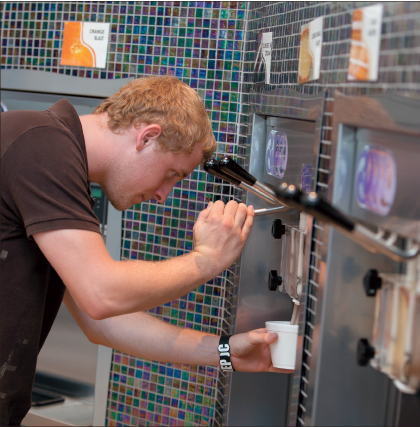 Flavor ran wild Sept. 8 as customers participated in the 'Bash'
Secluded in the remote regions of Simon's Run, the mysterious Yogurt Yeti called out to those who would venture to its Back to School Bash Sept. 8. According to staff, they had a good student turnout for the event.
The frozen treat shop featured buy one get one 50 percent off for students and teachers, as well as prizes including T-shirts, Old Navy and Famous Footwear gift cards and Yogurt Yeti coupons. With "fro-yo" already attracting many Lynchburg-area students, an event like the Back to School Bash served to bring in an even bigger party to the store.
The event ran from 11 a.m. to 11 p.m. For each cup of yogurt purchased, customers were entered into a drawing for the various prizes. Yogurt Yeti boasts an assortment of flavors ranging from Peach, Mango and Root Beer Float to Snicker doodle, Chocolate Macadamia, Cheesecake and York Chocolate Mint. The Yeti also offers coffee, specialty muffins, gourmet pastries and yogurt-covered peanuts.