'Veggie Tales' co-creator visits Liberty
Animator and voice artist Phil Vischer speaks about his experience with the show at convocation
The co-creator of the Christian children's show "Veggie Tales" and the familiar voice behind characters such as Bob the Tomato, Mr. Lunt and Pa Grape spoke at Liberty University convocation for the second time Monday, Sept. 3.
Many Liberty students grew up watching stories from the Bible acted out on television by talking vegetables, and Phil Vischer was one of the architects of the program.
"I thought it was really cool," Liberty senior Justin Lile said. "There aren't too many Christian successes in the movie and TV industry. A lot of them might be seen as cheesy and not well-done or produced. So it's really cool to see a big success story and for him to be able to come talk to us."
Vischer spoke to students about his personal struggles after his company, Big Idea Productions, went bankrupt and how God used those events to teach him something.
According to his website, philvischer.com, all of the company's assets, including characters, films and songs, were sold through a public auction. Although he no longer owns the rights, he still voices numerous characters for the company that now owns "Veggie Tales," in addition to writing one episode per year and consulting on others.
"It's hard to create characters and then lose connection with them," Vischer said. "It's kind of like raising children and having the state take them away. It has allowed me to go much deeper with my newer work, whereas 'Veggie Tales' became completely absorbing. I didn't have time to think about anything else. So, it's not fun, but it's good for me."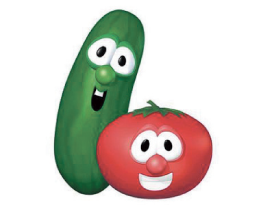 According to Vischer, learning to follow God and trust Him with what he should do next was the hardest part of the ordeal.
"It's not that (God) wants me to worry," Vischer said. "He just wants me to trust. It kind of feels like He's leading me across a river, raising stepping stones. 'Veggie Tales' was this big, massive, solid ground financially, and now I'm going out into this river to find what's next."
Vischer said that being comfortable with the unknown has been something that he has had to learn to adjust to, and much of his two appearances at Liberty's convocation was devoted to that subject.
In spite of his struggles, the self-proclaimed animator and puppeteer has landed on his feet with a few new projects. The "Phil Vischer Podcast" is a weekly talk show that can be found on iTunes, and it takes a look at current events and news from a Christian perspective.
According to Vischer, his other projects include "What's in the Bible," a box set of DVDs that take children deeper into the Bible, and jellytelly.com, a website with videos and games similar to a Christian "Nickelodeon."
For many Liberty students, including Lile, Vischer will always be remembered for his Bible-believing vegetables.
"I actually own a couple episodes of 'Veggie Tales,'" Lile said. "I watched them at vacation bible school and at my house."
Now that he has more time, Vischer has started to make more speaking appearances, and to his surprise, he has enjoyed it.
"Speaking is more fun than I thought it would be because I'm shy," Vischer said. "I'm an introvert, which is why I was an animator and a puppeteer, not an actor. Speaking is actually fun."
Speaking to large amounts of people is not the only unfamiliar thing God has led Vischer to do in nine years since Big Idea's bankruptcy, and he still does not know what else God has in store for him in the future. But just like what he told Liberty students in convocation, that is a burden for God to carry. All Vischer has to do is take things one stepping stone at a time.