Production schedule evokes excitement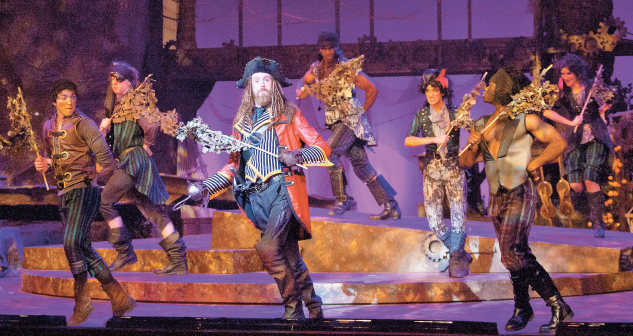 Liberty Department of Theatre Arts kicks off its fall season of shows with 'Into the Woods,' opening Sept. 21
Every new semester means another chance for the Liberty University Department of Theatre Arts to entertain audiences and take them to a different world through their performances on stage.
This semester, they have the chance to do that with four different shows, each providing their own type of flair. The theater season will begin Sept. 21 with "Into the Woods," followed by "The Glass Menagerie," "Leaving Iowa" and "She Loves Me."
"I am looking forward to some shows that I'm not even involved in," Liberty senior theatre arts major Rachel Day said. "I think it's a really good chance for the actors in our department to try their hand at roles that are more difficult, more deep and more characteristic of what we might find when we graduate. I think that the people in this department have strength to excel in their craft in those difficult roles."
The premiere show of the semester, Professor Linda Nell Cooper's "Into the Woods," has been performed at Liberty before, but Cooper plans to do things a little differently for its debut performance in Liberty's Tower Theater.
"'Into the Woods' is a really neat concept, a little different than most people are going to be thinking," Assistant Professor Chris Nelson said. "I think people are really going to enjoy the direction that the production has taken. We've actually done this show a couple times in the past, but this will be a new twist on it visually. I think that people will really enjoy it."
According to Nelson, "Into the Woods" will include classic characters such as Little Red Riding Hood and Cinderella, and it features challenging music written by Steven Sondheim for the actors to perform.
Day will be playing the role of the witch in "Into the Woods," and her role does come with its share of challenges.
"It is hands-down the most challenging role I have ever been given," Day said. "So it is really exciting, but it is also a little daunting. Just the music alone is extremely challenging. On top of that, this role is kind of a dual role in that I undergo an enormous physical, emotional and mental transformation halfway through the show. So I almost have to play two characters."
Nelson, director of the year-end play "She Loves Me," will get the chance to see his version of a well-known story performed. The show he will direct is based on a play that inspired movies such as "The Shop Around the Corner" and "You've Got Mail."
"It's about two coworkers that can't stand each other but don't know that they're pen pals and are secretly in love with each other," Nelson said. "It's a romantic comedy, and it ends around Christmas time."
Assistant Professor Neal Brasher will direct Tennessee Williams' play "The Glass Menagerie," and Assistant Professor Andrew Geffken will be directing this semester's workshop show entitled "Leaving Iowa."
Alluvion Stage Company is another part of Liberty's Department of Theatre Arts that has people looking toward the future.
"It's a professional wing of the department which allows us to treat it as a professional show," Nelson said. "The actors, and those that work on the show in any capacity, get paid as if they're working a show. It gives them a professional credit for their resume, but it also ups the ante in terms of what is expected. Professional-level work is expected of those that are participating in all the different areas."
According to Nelson, Alluvion allows Liberty to bring shows to central Virginia that people in that area might not have been able to see. According to Nelson, "Tarzan," the next Alluvion show to come to the Tower Theater stage in the spring, might not have been offered within a 200- to 300-mile radius.
Nelson even played Captain Hook alongside some of his students in Alluvion's debut spring 2012 production of "Peter Pan."
The timing of Alluvion's first show turned out to be perfect for Day.
"That was the only reason that I was able to return to school, having those funds," Day said. "So Alluvion kind of saved my education, to be honest. I think it's a huge miracle. We have seen miracle after miracle here, with the new Tower Theater and now Alluvion. God is just so good."
Even though Alluvion Stage Company will have to wait until the spring to put on another performance, the cast of "Into the Woods" is hard at work rehearsing for its debut.
For more information about the Liberty Department of Theatre Arts, visit the Theatre Arts page at liberty.edu.